Loving Kindness: A Path to Inner Peace – Self-Paced
with Swami Priyaananda, E-RYT 500
Open Dates
In this previously recorded workshop, explore the many ways to experience and express that mystical, magical, earthly feeling we call love. What causes us to move from open, expansive, all-embracing joyful feelings to closed, contracted, exclusive, painful feelings? How do we love ourselves, family, friends, neighbors, pets, plants, nature, and God?
Learn what the scriptures of various faiths teach us about love exploring these topics:
The definition of love: Its expressions, power, obstacles, and challenges
Love stories: Sharing stories of many who have dedicated their lives to the loving care of others
Bhakti Yoga: The Yoga of Devotion
Love in Action: Practices to cultivate loving-kindness
This workshop includes access to:
Four recorded talks by Swami Priyaananda
Two guided meditation videos
Two recorded Yoga classes
Yoga Nidra by Sri Swami Satchidananda
You can spend two days enjoying these inspiring classes or watch the videos separately at your convenience.
Testimonials
Swami Priyaanada was clear and precise to explain subtle topics and she provided a very easy way to adapt them in our daily life. She also showed a lot of knowledge, passion, and devotion. — Víctor Rodriguez

She was knowledgeable and professional. I appreciated the stories she told and that she asked participants questions to include additional input and participation. — Past Participant

This was a great space for me to see and learn more about what love looks like. I'm on my personal path of learning this, and the content and teacher were perfect vessels of this for me. Swami Priyaananda was the perfect soul for this lovely workshop. I can tell she loves sharing the message of love and peace to the world. I'm grateful for the chance to have had some precious moments of seeing love in action. I need more sources and examples of love in life, I knew this would be a great place to go to for that. — Jennifer Rodrigues
Presenter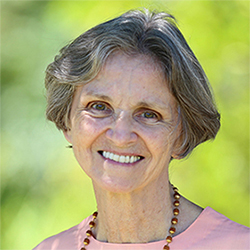 Swami Priyaananda, E-RYT 500
Swami Priyaananda is a senior disciple of Swami Satchidananda with thirty years of experience in the practice of Integral Yoga. She served in the Integral Yoga Health Services division and the Distribution Department at Satchidananda Ashram in Connecticut, as well as Executive Secretary and Coordinator of the Living Yoga Training program at the Ashram in Virginia. Currently, she is Vice President of the Office of Spiritual Development and Manager of Satchidananda Archives.
Learn more about Swami Priyaananda, E-RYT 500