Experience the Fullness of Your Feminine Nature – Self-Paced
with Nischala Joy Devi and Rukmini Ando, E-RYT 200, RYT 500, YACEP
Open Dates
In this prerecorded workshop, experience the fullness of your feminine nature by diving into the depth of intuition and joyous self-expression. Invoke the presence of the heart in daily rituals, scripture study, and the physical practices of Yoga. Explore how we, as women, have the power to use each moment of our daily lives to reflect our authentic self.
During this program we will explore:
Meditations to touch and expand the heart
Expressive movements designed to bring forth the Goddess within
Sutras for women, from a woman's perspective
The art of spiritualizing each action in our lives
Discovering and moving to our own inner rhythms
Ancient ways and rituals and how they define our lives
Give yourself the gift of knowing the depth of your own heart and the wisdom that it reveals. Experience a deeper capacity to love yourself and others, reawakening creativity and the inspiration to follow your heart's song.
This self-paced workshop includes access to:
Four inspiring and uplifting recorded talks with Nischala Joy Devi
Four Hatha Yoga recorded sessions with Rukmini Ando
Two guided meditation videos
Two talks and a Yoga Nidra session by Sri Swami Satchidananda
Live 5 pm ET Integral Yoga Hatha class every day
Live Q&A with an Integral Yoga senior teacher every Sunday on a different topic
You can spend a full two days enjoying these inspiring classes or watch the videos separately at your convenience.
Testimonials
Words can not truly express the joy I felt and still feel as part of this beyond amazing and heartfelt workshop/course. It was eye-opening, heart-opening and comforting in so many ways. Both Nischala and Rukmini have spread their love, vast wisdom and very precious humor. Though this was a virtual course, the vibration of oneness was felt energetically through my computer screen. — Jean Michelle Hermenegildo

Uplifting, inspiring, heart-opening, life-affirming. Both presenters, Nischala and Rukmini, get five stars! Each raised our vibrations with knowledge, heart, joy, service-centered presence. The opportunity to perform a puja at my home altar with step by step guidance from Nischala was an unexpected blessing from this quarantine time. — Kathleen Saraswati Rosenberg

Nischala Joy Devi is the essence of feminine power! Her ability to explain/interpret the Sutras with heart will touch your heart and move you to love. Thank you. I am grateful for the tools that I learned to bring more love into my life so I can share it with our world! Nischala Joy Devi is delightful! She is the first woman to translate and publish a book on the Yoga Sutras intended for women! Her workshops are full of personal experiences, practical applications and technical content to improve your Yoga practice and bring more love and heart into your life. — Hope McLeod
Presenters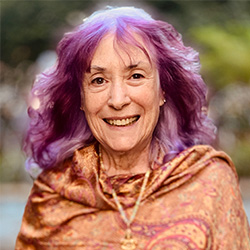 Nischala Joy Devi
Nischala is a masterful teacher and healer, recognized for her innovative way of expressing Yoga and its subtle uses for spiritual growth and complete healing. Her dynamic delivery and deep inner conviction empower each individual, allowing the teachings to expand beyond boundaries and limitations of any one tradition enabling her to touch people's hearts. Originally trained in Western medicine, she began to blend her practice with Yoga. She offered her expertise in developing the Yoga portion of The Dean Ornish Program for Reversing Heart Disease and co-founded the award-winning Commonweal Cancer Help Program. Her book, The Healing Path of Yoga, and her Abundant…
Learn more about Nischala Joy Devi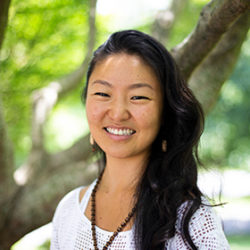 Rukmini Ando, E-RYT 200, RYT 500, YACEP
Nathalie Rukmini Ando, a Yoga teacher, fine artist, and graphic designer of Japanese descent, recently moved back to Brazil where she was raised. Prior to this, she lived in Yogaville, VA, where she served for 7 years as a Yoga teacher, program development director, and leadership team member. She continues to serve the Ashram's Program Development Department as well as the DE&I (Diversity Equity and Inclusion) Committee. She has been practicing Yoga since 2004 and has been teaching since 2010. She is certified in Basic, Intermediate, and Advanced Integral Yoga, Raja Yoga, Adaptive, Stress Management, Yoga of Recovery, and Yin…
Learn more about Rukmini Ando, E-RYT 200, RYT 500, YACEP