Yogic Science to Break Habits and Addictive Behavior – Online
with Mukta Kaur Khalsa, Ph.D.
September 25, 2020
In this online workshop, discover practical techniques to heal from the effects of harmful substances and addictive behaviors through instructive and experiential training. A life of freedom, health, and autonomy is your birthright. Learn the science of addiction, including the effects of various substances on the brain, nervous system, and glandular system, and explore how to re-calibrate addictive patterning in the brain.
This dynamic online workshop provides a place for the profound personal transformation needed to live a life of increased awareness and deeper insight. Experience Kundalini Yoga (Yoga of awareness), breathwork, meditation (for mental self-control), nutritional therapeutic formulas, and detoxification recipes that support whole-body rehabilitation.
Course components include:
Physiology and psychology of addictions and their development
Recipes for detoxification and the rehabilitation process
Therapeutic formulas and perspectives to combat cravings and to address physical breakdown and mental trauma
Application of therapeutic techniques in clinical settings, private life, and as a teaching tool
The addictive personality and exploitation of hope
The SuperHealth system and yogic philosophy as it pertains to the pressures and stress of modern-day times
Protocols for authenticity and heartfelt compassion
Analysis of how to live your personal excellence
Live sessions with Mukta Kaur Khalsa on Friday at 9 am–12:30 pm and 2–4 pm EDT.
In addition, you will have access to the Ashram's Live Hatha Yoga classes at 5 pm, recorded Ashram meditations, and inspiring talk with Sri Swami Satchidananda. You will also have access to an online social community to connect and communicate with other participants about this course.
This online workshop is open to all those interested in their own personal healing process or seeking a renewed lifestyle.
You will have access to the video recordings for 8 weeks after the program ends, until November 20.
Continuing Education Opportunities

Approved for 5.5 CEUs for several healthcare professionals and their boards (IKYTA, Nurses–AHNA, LMFT, LCSW, LPCC & LEP's–CAMFT, Addiction Counselors–NAADAC, Physical Therapists). Please inquire upon registration.
Testimonials
After this workshop, I feel ten pounds lighter, with joy in my spirit and tools to use in my daily life. I have renewed contentment and vision! Thank you, Mukta! — Susan Halloran

Mukta is the personification of joy, service, and happiness—very healing, loving presence. Her laughter is liberating. — Rev.Lakshmi Barsel

The workshop was cathartic and very healing. Mukta is a gift to humanity, as are the individuals who signed up for the program. Those of us who seek—we are not alone! Thank you! — Melanie Coghill
Presenter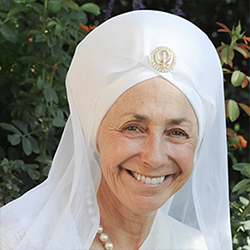 Mukta Kaur Khalsa, Ph.D.
Mukta Kaur Khalsa is the director of SuperHealth and personally trained with Yogi Bhajan for thirty years. She was the director of a specialized hospital in Tucson, AZ, that was rated in the top 10% of all programs in the United States by the Joint Commission on Accreditation of Healthcare Organizations. She is the author of Meditations for Addictive Behavior and Healing Addictive Behavior. SuperHealth is a NGO of U.N. on yogic CE provider integrating into medical community for recovery. See more at Super-Health.net
Learn more about Mukta Kaur Khalsa, Ph.D.