Yoga and Core Stability – Online
with Letícia Padmasri, M.A., E-RYT 500, C-IAYT, YACEP
September 17 - 20, 2020
The body's core gets a lot of attention, but what is it? And how can we move through Yoga asanas to improve our core stability and develop a pain-free Yoga practice?
In this online workshop, Padmasri will take you through a journey where you will study the anatomy of your core, explore effortless ways to carry your body, and also learn, through practices, how to develop all the components that build core stability.
Core stability creates fluid, strong, and relaxed Yoga practices and makes our daily life activities graceful and pain-free. The psoas muscle has an important role in this. A dysfunctional psoas muscle disrupts the core and skeleton integrity leading to low back pain, sacroiliac pain, scoliosis, hip degeneration, knee pain, and even menstruation and digestive problems. Such disruption impacts our ability to develop core stability.
In this online workshop, you will:
Understand the role of the psoas muscle in core awareness and stability
Learn tools to recover and maintain a healthy psoas muscle
Learn practices for improved core stability
Discover the connections between core stability and breathing
Discuss sitting habits and explore seated asanas for improved meditation experiences
Set the foundation for healthy and safe Yoga postures, breathing, and meditation practice
This online workshop is open to everybody: from Yoga therapists and Yoga teachers to individuals experiencing back pain.
Live sessions with Padmasri on Thursday and Friday at 6–8 pm, Saturday at 10 am–12 pm and 2–4 pm, and on Sunday at 10 am–12 pm EDT.
In addition, you will have access to a live class with Rukmini Ando focused on Core Awareness and Stability at 7:30–9 am on Saturday and with Zac Parker at 7:30–9 am on Sunday, the Ashram's Live Hatha Yoga classes at 5 pm, recorded Ashram meditations, and inspiring talk with Sri Swami Satchidananda. You will also have access to an online social community to connect and communicate with other participants about this course.
You will have access to the video recordings for 6 weeks after the program ends, until November 1.
Continuing Education (CE) Opportunities
Testimonials
Leticia is extremely knowledgeable and her presentation was very clear. She really took the time to make sure we understood each point as she progressed through the program. — Elizabeth Fox

Excellent course—full explanations, in detail, with illustrations and take-home worksheets; we were also able to practice many positions to incorporate what we were learning. — Theresa Gilman

I can't believe how much I learned in just one weekend. This workshop truly transformed my practice and my teaching. Padmasri is a masterful teacher! She offered a perfect blend of theory and experiential practice. — Zac Parker

This seminar arrived in my life when I most needed it; with "chronic" back pain, I needed a way forward. This class was perfect, thank you for offering this class! Padmasri is the best teacher I have ever experienced! Thanks, Padmasri! — David Rapp
Presenter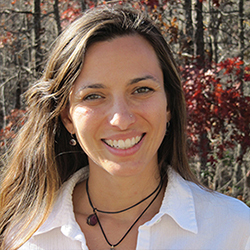 Letícia Padmasri, M.A., E-RYT 500, C-IAYT, YACEP
Letícia Padmasri is an Ayurvedic Lifestyle Consultant, a certified Advanced Integral Yoga® Hatha teacher, and a certified Raja Yoga teacher. She holds a bachelor's degree in exercise science, a master's degree in education, and has dedicated many years towards the study of exercise physiology. She combines her love for the sciences of Yoga and Ayurveda with her interest in the body's structure and function, helping students of all levels adapt their practices to achieve optimal health and total well-being. In addition to being one of Yogaville's primary teacher trainers, she also offers workshops and seminars in the US and Brazil.…
Learn more about Letícia Padmasri, M.A., E-RYT 500, C-IAYT, YACEP