Yoga Nidra Training and Certification Level 2
with Julie Lusk, E-RYT 500, M.Ed.
September 10 - 15, 2021
Registration is temporarily suspended until info is available about reopening.
Join the waitlist to be notified if/when the program is confirmed.
Gain the tools and resources needed to lead others effectively in the practice of Yoga Nidra, or "yogic sleep". Yoga Nidra is a comprehensive practice for going far beyond deep relaxation to a place of natural peace and quiet that is tremendously healing for the body, mind, and spirit. Use and deepen your understanding of Yoga Nidra's purpose, principles, techniques, and delivery. Learn advanced skills, and variations in leading relaxation techniques, breath-work, guided imagery, mindfulness, and other mind-body techniques.
Backed by contemporary science, studies have shown that Yoga Nidra can boost the immune system, lower blood pressure, decrease pain, and improve other health conditions. Regular practice can improve memory, concentration, and relieve anxiety and depression.
During this training, you will:
Design and write your own teaching scripts
Learn how to adapt Yoga Nidra for specific needs, such as for stress management, physical health concerns, mental and emotional well-being, behavior changes, and for various age groups and settings
Use mudras (hand gestures) to enhance Yoga Nidra
Learn practical tips on designing, marketing, implementing, and evaluating Yoga Nidra workshops
Upon completion of Level 2 training, graduates will be able to teach Yoga Nidra in groups and private settings. Participants will receive a certificate upon completion of the training and will fully understand the advanced principles and practices of Yoga Nidra and its benefits.
Training Information
Prerequisites
Yoga Nidra Training and Certification LEVEL 1 with Julie Lusk. This program is being offered on September 3–8, 2021, at Yogaville.
Textbook
Yoga Nidra for Complete Relaxation and Stress Relief by Julie Lusk. New Harbinger Publications, 2015.
If you don't have this book already, you may purchase it upon your arrival or click here.
Additional training materials will be provided.
Continuing Education (CE) Opportunities
Testimonials
Julie knows her stuff and really delivers the information in a very user-friendly way. I've gained more knowledge on Yoga Nidra, and am ready to rock and roll and take it on the road. — Past Participant

I wanted to go deep into Yoga to share with others as a Yoga teacher; I totally got what I came for. The practice, experiencing Yoga Nidra, was very important, this way I know what I am talking about. — Anna Vasudevan

This has been such an invaluable experience to learn from the author of the training book, who has such a wealth of experience and wisdom. — Gigi Jones

I feel so lucky and blessed to have had Julie as my instructor. She was knowledgeable, warm, funny, and approachable. She did a great job presenting the material and sharing her knowledge. I got more than what I expected from the program. — Irma
Presenter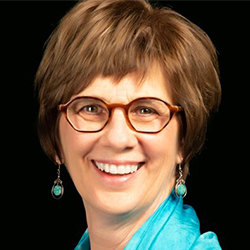 Julie Lusk, E-RYT 500, M.Ed.
Julie Lusk specializes in balancing and strengthening the body-mind-spirit connection through Yoga, meditation, constructive relaxation, and guided imagery as an international author, recording artist, and workshop leader. Julie is the author of Yoga Nidra for Complete Relaxation and Stress Relief, Yoga Meditations, two volumes of 30 Scripts for Relaxation, Imagery, and Inner Healing, and Desktop Yoga®. Her CDs include Sleep Well: Yoga Nidra, Wholesome Relaxation, Power of Presence, Blue Moon Rising, and many others. Her newest book, Yoga Nidra Meditations: 24 Scripts for Total Relaxation will be available in May. She is talented in bringing the best out in others through…
Learn more about Julie Lusk, E-RYT 500, M.Ed.