Open Your Heart: A Bhakti Yoga and Creativity Immersion – Online
with Sean Johnson, E-RYT 500
August 22 - 23, 2020
In this online workshop, join critically acclaimed spiritual music artist Sean Johnson for a Bhakti Yoga immersion. Sing your heart out, tap into your inner poet, and rejoice in the awakening of your unique voice and creativity during this heart-opening weekend.
Are you yearning for creative inspiration that reinvigorates your spirit? This online retreat is an invitation to drink from the life-giving well of Bhakti Yoga, the Yoga of the heart.
Sean will create a safe and invigorating space for you to:
Tune your being with singing meditation, kirtan chanting, and song
Explore your own life journey more deeply through interactive storytelling, mythology, coloring, and journaling
Merge your physical and emotional consciousness with heart-centered Vinyasa Yoga practice
Spark a romance with life itself and explore the love poetry of the Bhakti Yoga tradition
Live sessions with Sean on Saturday 10:30 am–12:30 pm and 2–4 pm and Sunday 10:30 am–12:30 pm (EDT).
You will also have access to the Ashram's Live Hatha Yoga classes at 5 pm and access to an online social community to connect and communicate with other participants about this course.
Continuing Education Opportunities
Testimonials
I have taken a few programs at Yogaville, and this has been my favorite. Sean creates a safe, fun, and educational space to really tap into creativity through song, wonderful stories, and intuitive movement. If you've ever struggled with creativity, consider this heart-opening and inspiring experience. — Meghan King

The program combined music, chanting, storytelling, and poses in an amazing way. Sean did a fantastic job keeping us engaged. The program was very interactive and allowed us to dive deep into our creativity. — Izzet Murat

A wonderful opportunity to grow in creativity in a safe friendly environment. Sean will help your spirit soar. — Heather Dotterweich

Indescribably delicious- your heart will open. Fear, self concern, worry, and inhibitions will melt away. Sean is amazing and will open a safe space for you to spontaneously grow into. — Michael Selzer
Presenter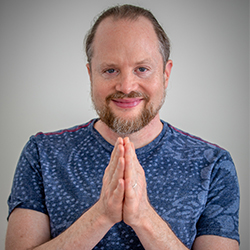 Sean Johnson, E-RYT 500
Sean has been teaching Yoga and guiding kirtan for over twenty years. He is the founder of Wild Lotus Yoga studios in his native New Orleans, and Soul School, an interdisciplinary Yoga teacher training program that focuses on teaching Yoga with skill and imagination. He has a master's degree from Naropa Institute- Oakland, with focus on teaching chant as spiritual practice. He has written for Yoga Journal and is the co-curator of Putumayo World Music's music-for-Yoga compilations including Yoga, World Yoga, Yoga Lounge, and Acoustic Yoga. In 2005, he founded the Wild Lotus Band as a post-Hurricane Katrina philanthropic music project, raising funds across…
Learn more about Sean Johnson, E-RYT 500