Gentle Somatic Yoga Weekend: Awaken from Within – Online
with James Knight, E-RYT 200, CHSE
September 5 - 6, 2020
In this online workshop, discover why Gentle Somatic Yoga® (GSY) has gained worldwide recognition as a method for immediate and lasting solutions to chronic pain, stiffness, and other tension-based patterns in the body. Experience a weekend of complete restoration and inspiration for renewed lifestyle choices. You will be guided through therapeutic corrective movement sequences called Somatic Movement Flows®. Instead of traditional stretching, these mindful sequences reprogram muscles to dissolve chronic pain, dramatically improve flexibility, and re-establish good posture. The results return us to our natural state, which is peace and well-being.
You will be invited to embody progressive and innovative techniques that combine Hatha Yoga, Hanna Somatic Education, Core Energetics, pranayama (breathing practices), and healing visualizations. As the practice of Yoga continues to become mainstream, people are searching for more gentle, kind, and nourishing ways to move.
This is a great introductory course for Yoga teachers, Yoga therapists, bodyworkers, active seniors, and beginning Yoga students. Regardless of age or ability, you will learn practical and effective skills that you can immediately incorporate into your private sessions, classes, and home practice.
Live sessions with James Knight on Saturday at 11:30 am–1 pm and 2–3:30 pm and on Sunday at 11:30 am–1 pm EDT.
In addition, you will have access to the Ashram's Live Hatha Yoga classes at 5 pm, recorded Ashram meditations, and inspiring talk with Sri Swami Satchidananda. You will also have access to an online social community to connect and communicate with other participants about this course.
You will have access to the video recordings for 8 weeks after the program ends, until November 1.
Continuing Education (CE) Opportunities
Testimonials
The program was great! I love Somatics, it is going inside yourself to discover so much about old patterns. If you're willing, it is a perfect way to let go of old patterns and learn a better way of moving through life. — Donna C.

James is a fountain of knowledge and at peace with himself. He shares openly both aspects with his students in a playful, humorous way allowing me to understand his message in a light way. Somatics and slow movement Yoga are truly our medicine. — Alicia Schwartzman

Gentle Somatic Yoga is accessible to many different types of bodies and it is so therapeutic. The Ashram is a welcoming, warm environment for hosting the learning experience. — Jane R.

James has an incredible way of showing and explaining. His teaching style encourages us to explore and make the movements our own. I am grateful to have been able to be a part of this special weekend. — Sharon B.
Presenter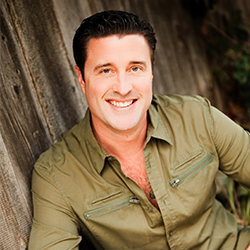 James Knight, E-RYT 200, CHSE
James has been an Integrative Therapist for over 25 years. He is a Yoga teacher (E-RYT 200) and Certified Hanna Somatic Educator (CHSE). From his combined experience as a lifelong yogi, intuitive bodyworker, psychotherapist, and movement educator, James created a method of Yoga that integrates what he discovered to be the most progressive, life-enhancing techniques into an embodied movement practice. Gentle Somatic Yoga was born out of years of exploring means of connecting and integrating the deeper aspects of the whole Self (Soma). James' passion is to awaken the possible for people living with challenges related to physical limitations. He…
Learn more about James Knight, E-RYT 200, CHSE