Give Sorrow Words: Exploring Grief and Loss Through Writing – Online
with Karla Helbert, LPC, E-RYT 200, YACEP, C-IAYT and Jamie Fueglein, MFA
July 18 - 19, 2020
Shakespeare said, "Give sorrow words; the grief that does not speak knits the o'er wrought heart and bids it break."
In this online workshop, we'll attempt to unknit our broken hearts as we explore grief, loss, and sorrow through writing, supported, and inspired by other modes of creative expression. Your writing process will be combined with meditation and guided visualizations along with easeful, creative movement as well as mandala creation and time in nature to supplement your creative, expressive process. Through experimentation with all these creative modalities, you'll learn ways of beginning to unburden your heart, explore meaning-making your own way, and finding your voice in and through grief, loss, and pain.
Together we'll explore and discover creative ways to make meaning and honor your experience in grief, love, loss, and remembrance in a space where you'll be guided through exercises and prompts to fully support you as you find the words and ways to express and explore your grief. Sharing is welcome, but not required.
In this online workshop, you will:
Be guided through multiple types of prompts and exercises to explore your experiences through your writing
Explore multiple creative modes of expression to support and enhance your writing process
Practice postures and easeful meditative movement to move creative energy, access feelings in the body, further supporting your creative expression
Work with the breath and visualization to facilitate relaxation, ease pain and stimulate imaginal spaces of creativity
Be supported, if you wish, in safely sharing your writing with like-minded, like-hearted seekers
Practice writing and mandala making as a spiritual and self-exploratory practice
Learn techniques that you will be able to implement on your own for continuing your expressive process through writing and art
Live sessions with Karla and Jamie at 10 am–12 pm and 2–4 pm on Saturday and 10 am–12 pm on Sunday.
In addition, you will have access to the Ashram's Live Hatha Yoga classes at 5 pm, recorded Integral Yoga Hatha classes, meditations, and an inspirational talk. You will also have access to an online social community to connect and communicate with other participants about this course.
Continuing Education (CE) Opportunities
Testimonials
They interweave a lovely and meaningful program of writing, exploring grief and loss, balanced with art, Yoga, and meditation. The workshop was painful and also freeing, allowing us to release and connect with others in a space that completely honored our grief. Both Karla and Jamie shared about their own loss of their son, as well as pieces of their own art and writing. It is not only their gifts—as a writer, artist, yogi—but their lived experience and willingness to share that in such a raw and tender way that allowed others to connect more freely with grief. — Monica Klisz

I attended Karla and Jamie's one-day workshop on 'Give Sorrow Words' and found it really valuable. As a team, they gave us a safe space to be with others in grief and express ourselves through movement, art, writing, and meditation. — Julie Harrison

Both Jamie and Karla excel at creating a comfortable environment, holding space for complicated emotions, and helping grievers find new ways to express the emotions. Jamie made what can often seem intimidating- filling blank pages with deep feelings- very accessible to writers of all experience levels. His prompts were diverse, creative, and engaging while allowing a lot of freedom for personalizing the experience. The combination of experiencing/exploring grief with Yoga, meditation, and art combined with reflective writing was particularly powerful. I appreciate the courageous way both presenters shared their grief stories, highlighting different adaptive ways of engaging with grief. I hope to repeat this workshop. — Kate Weaver

Words can't describe, but Karla helped me to live in the pain and grief so I can survive, grow and transform. — Tamara Rollison
Presenters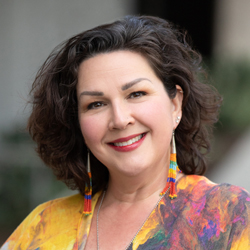 Karla Helbert, LPC, E-RYT 200, YACEP, C-IAYT
Karla is a licensed professional counselor (LPC), Compassionate Bereavement Care® provider, Yoga therapist, and certified Integral Yoga teacher. Her life was irrevocably changed when her son died of a brain tumor in 2006. Karla's award-winning book, Yoga for Grief and Loss, is endorsed by Integral Yoga® leaders and teachers as well as other experts in the fields of both Yoga and loss. The book examines how the paths of Yoga can support us in trauma and grief. She also shares the teachings and philosophies of Yoga's ancient wisdom in her book The Chakras in Grief & Trauma. Relying on ritual, meditation,…
Learn more about Karla Helbert, LPC, E-RYT 200, YACEP, C-IAYT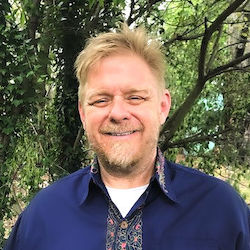 Jamie Fueglein, MFA
Jamie Fueglein writes every day. He holds an MFA from Virginia Commonwealth University where he teaches writing. He has taught writing classes for VCU and the University of Richmond English departments. He currently teaches fiction writing at the Visual Arts Center of Richmond and holds novel writing workshops. He has also edited many works of fiction and non-fiction. Jamie and Karla are married to each other and not only do they love each other very much, they actually really like each other! They've walked the path of grief together, as well as on their own individual journeys. They are parents…
Learn more about Jamie Fueglein, MFA