Raja Yoga Now: Ancient Wisdom for Modern Times – Online Series Part 2
with Swami Karunananda, E-RYT 500
July 1 - 22, 2020
The Yoga Sutras of Sri Patanjali is the foremost scripture on Yoga. It dates from antiquity, but the wisdom and practices it presents are extremely relevant for modern times and challenges. In Part 1, which was offered in May/June, the Essential Philosophy and Basic Psychology of the Yoga Sutras were presented. In July, we will be offering Part 2, which will be open to new participants, as well as to those who took Part 1. Sessions will include lectures, followed by the opportunity to ask questions.
Among the topics we plan to cover are:
Overcoming obstacles: "Making the teachings work for you"
Kriya Yoga: "Preparing for the inner journey"
Kleshas: "The fundamental obstructions"
Understanding Karma: "Releasing the ties that bind us"
Our world today is in the midst of a dynamic period of transformation and transition. Our collective humanity is being called to face unprecedented challenges. Our bodies, minds, and spirit are being put to the test as we are all called to find new ways to think, act, and live.
The Yoga Sutras of Patanjali can serve as a practical guidebook for this process. It provides profound insight into the human condition and how to gain mastery over the mind. It offers methods to optimize our health, change our behaviors, and transform the way we move through life. Ultimately, it leads us to the highest spiritual realization, in which we abide in the peace and joy that is our true nature.
In our increasingly interconnected world, the benefits experienced by any one of us more readily affect all of us. Coming together at this time, immersing ourselves in these sublime and practical teachings, can be a support and light to us all. Let's support one another as we move through this time of unknowing and transformation together.
Continuing Education (CE) Opportunities
Live sessions will begin at 2 pm (EDT) with a lecture followed by Q&A. You will also have access to an online social community to connect and communicate with other participants about this course.
Purchase The Yoga Sutras of Patanjali
You can use the link to purchase Swami Karunananda's book Awakening: Aspiration to Realization Through Integral Yoga
Testimonials
I am really enjoying the classes, Swami Karunananda is able to really express everything very well. Her discussions really resonate with me. As she says it takes a long time for the practice but it's good to have this support and especially during these turbulent times. — Mary Ann Zelinsky

Swami Karunananda is so cool! Her brilliance is not only conveying these spiritual principles and practices in such an understandable way but also the essence she conveys. She uplifts us as she teaches, in a way that is beyond words. I am very grateful! — Montina Sraddha Cole

Swami Karunananda is incredible. So knowledgeable, down to earth, compassionate, articulate, and funny! She clearly takes the practice seriously but not herself. — L. Misztal

She was the embodiment of peace, ease, and usefulness. — Jordan McCoy

I took the program to better understand the Yoga Sutras, the program definitely helped me. Swami Karunananada was wonderful! Warm, compassionate, patient. A great teacher! — Past Participant
Presenter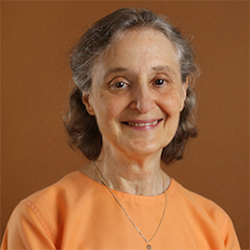 Swami Karunananda, E-RYT 500
Swami Karunananda, is a senior disciple of Sri Swami Satchidananda. In 1975, she was ordained as a monk into the Holy Order of Sannyas. She has been teaching all aspects of Yoga since 1971, and specializes now in workshops, retreats, and teacher training programs that focus on the science of meditation, the philosophy of Yoga, personal transformation, and Yoga breathing techniques for better health and wellbeing. In 1989, she developed and has taught, the Integral Yoga® Teacher Training programs in Raja Yoga and in Meditation. Swami Karunananda served as president of Satchidananda Ashram–Yogaville in Virginia and in California, as well…
Learn more about Swami Karunananda, E-RYT 500