Sage Insights with Swami Hamsananda
with Swami Hamsananda
Open Dates
In this self-paced workshop, you will have a rare opportunity to benefit from the sage wisdom and humor of Swami Hamsananda during these challenging times. Sw. Hamsananda is a senior sannyasi (monk) and disciple of Swami Satchidananda. She is a guided meditation leader, engaging speaker, Integral Yoga mentor, and private retreat guide.
This workshop includes access to:
Two inspiring and uplifting recorded talks with Swami Hamsananda
Guided meditation video
Talk and Yoga Nidra session with Swami Satchidananda
Recorded Integral Yoga Hatha class
Live 5 pm (ET) Integral Yoga Hatha classes every day
Live Q&A with an Integral Yoga senior teacher every Sunday on a different topic
You can spend a full day enjoying these inspiring classes or watch the videos separately at your convenience.
You will also have access to an online social community to connect and communicate with other participants about this course.
Testimonial
Swami Hamsananda's outlook on life is full of wonder, what Einstein called, "the most beautiful thing we can experience as humans". Plus, she's always optimistic and extremely funny. — Tom Callahan
Presenter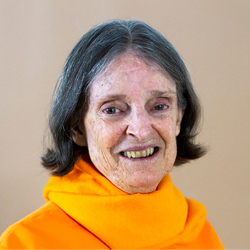 Swami Hamsananda
Swami Hamsananda is a senior disciple and sannyasin of Swami Satchidananda since 1975. She compiled The Golden Present, one of the most known books of Gurudev's teachings. Swami Hamsananda is currently living and serving at Satchidananda Ashram–Yogaville where she often shares her humor and wisdom in inspirational and spiritual talks. Her advice to all is to, "Just have faith, and identify with the true self. That's it!"
Learn more about Swami Hamsananda