Deepening Your Meditation Practice: Six Essential Factors
with Swami Karunananda, E-RYT 500
Open Dates
In this previously recorded workshop, Swami Karunananda presents the four main types of meditation and how to establish a strong and consistent practice. Common obstacles and how to overcome them will be addressed. She discusses the importance of accountability and how to set up a support system. You will emerge with a personal practice plan to serve as an anchor and guide for the months ahead.
Practical and profound—those words best describe meditation. It is practical because it makes the mind stronger, clearer, and calmer. This leads to greater harmony in our relationships, efficiency in our work, and emotional balance as we move through life. Because of the mind-body connection, our physical health improves as well. It is profound because, ultimately, it enables us to transcend the mind and realize our true nature, a state of supreme peace and joy—free of all sorrow, fear, suffering, and delusion.
Swami Satchidananda used to say: "Meditation is the most important practice. Most of our problems in life would be solved if we meditated regularly." That is because our experience of life is based on the condition of the mind, how we perceive and respond to situations. Meditation enables us to understand and gain mastery over the mind.
You will have access to:
Four recorded talks with Swami Karunanada
Guided meditation video
Integral Yoga Hatha classes
Talks and Yoga Nidra by Sri Swami Satchidananda
Live Q&A with an Integral Yoga senior teacher on a different topic every Sunday at 2 pm EDT
You can spend two days enjoying these inspiring classes or watch the videos separately at your convenience.
Testimonials
There are no words to describe the feeling I get from being with Swami Karunananda. Her words just draw me right in. I love her use of storytelling, both traditional and from her life. She is brilliant, as well as kind, authentic, and really funny! What an inspiration! — Jnana

The Swami is incredible. So knowledgeable, down to earth, compassionate, articulate, and funny! She clearly takes the practice seriously but not herself. — L. Misztal

Swami Karunananda's grace and knowledge are inspiring and enlightening! Having detailed instructions for our own practice and questions answered was really amazing. — Past Participant

I love Swami Karunananda. I have heard her over the years and she really is knowledgeable and understandable. — Past Participant
Presenter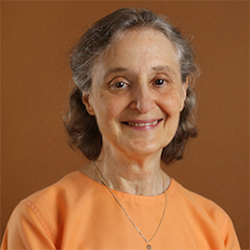 Swami Karunananda, E-RYT 500
Swami Karunananda, is a senior disciple of Sri Swami Satchidananda. In 1975, she was ordained as a monk into the Holy Order of Sannyas. She has been teaching all aspects of Yoga since 1971, and specializes now in workshops, retreats, and teacher training programs that focus on the science of meditation, the philosophy of Yoga, personal transformation, and Yoga breathing techniques for better health and wellbeing. In 1989, she developed and has taught, the Integral Yoga® Teacher Training programs in Raja Yoga and in Meditation. Swami Karunananda served as president of Satchidananda Ashram–Yogaville in Virginia and in California, as well…
Learn more about Swami Karunananda, E-RYT 500