Healing Heart Flow Yoga with Uplifting Music
with Tara (Becky) Eschenroeder, E-RYT 500, RCYT, YACEP and Christie Lenée
Open Dates
Experience a day of Yoga and sweet music to ground deep within your roots, and return to your heart space.
Enjoy a recorded 90-minute rhythmic Vinyasa flow Yoga class with international Yoga instructor Becky (Tara) Eschenroeder accompanied by uplifting music performed by guitarist/singer/songwriter, the 2017 International Fingerstyle Guitar Champion, Christie Lenée.
You will have access to:
Tara's Vinyasa flow class with Christie's uplifting music
Meditation Video
Integral Yoga Hatha classes
Lunchtime reading and Yoga Nidra by Sri Swami Satchidananda
Q&A with an Integral Yoga senior teacher every Sunday on a different topic starting on May 17
You can spend a full day enjoying these inspiring classes or watch the videos separately at your convenience.
May we align our breath to sync with the beating of our hearts, healing ourselves and this planet from the inside out. Wandering through this time of uncertainty we connect with the elements. Through the earth, our breath, and Yoga we ground deep in our roots. The air is wild, free, and full of possibility. Water nourishes our souls while reminding us to go with the flow. We ignite the fire of passion and light an awakening within, becoming one with the elements and connecting under one sun.
Testimonials
This was a great collaboration of two souls giving their talents through service. The Yoga practice was the right amount of activity and rest, the music was just beautiful! I truly appreciate the Ashram and the legacy of Sri Swami Satchidananada. His teachings and writings have been an integral part of my Yoga journey.—Jennifer Rodrigues

The instructor was phenomenal and the music was fabulous. These two provided a wonderful program! The two presenters are clearly there to serve and love what they do. It made the event so pleasurable!—Past Participant

She was an amazing teacher, her poetry such a lovely addition and the music was angelic!—Sydne Stone

Tara and Christie were incredible. The page setup was easy to access.—Nathalie

I loved the Yoga session. The instructor was very positive. The creative and positive vibe was wonderful.—Anne DeBevoise
Presenters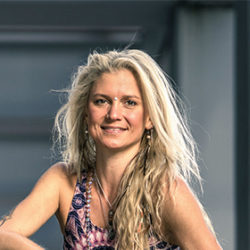 Tara (Becky) Eschenroeder, E-RYT 500, RCYT, YACEP
Tara (Becky) Eschenroeder is a certified coach and mentor, self-published author. and an accomplished yogini who was voted one of the top three Yoga instructors by Richmond Magazine in 2015. With some teachers, the lessons are planned, practiced, rehearsed, and perfected to a tee, but Tara Eschenroeder offers a different experience. Teaching was Tara's dharma long before she realized it. She grew up with a bow and arrow in her hands, learning to pull back with just enough aim and control to send her arrow into the abyss, knowing and trusting it would hit its intended mark. Likewise, she enters…
Learn more about Tara (Becky) Eschenroeder, E-RYT 500, RCYT, YACEP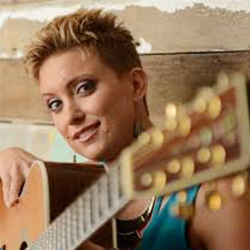 Christie Lenée
Christie is the 2017 International Fingerstyle Guitar Champion and a captivating performer with a devoted following among instrumental, folk-pop and rock band audiences. Combining guitar mastery, contemporary singer/songwriter and a passion for storytelling, she thrives on bringing people together through the language of music. Christie's unique guitar work and profound instrumental compositions are well described as 'Michael Hedges meets Joni Mitchell and Dave Matthews.' Among the vast community of fingerstyle and tapping guitarists, her niche is the integration of melodic pop lyricism with catchy hooks that excite both modern commercial listeners and classic purists. With a menu of percussive and…
Learn more about Christie Lenée