Prenatal Yoga Training: Embody a Luminous Pregnancy and Birth
with Rev. Dr. Viviana Collazo, E-RYT 500, CPYT
August 6 - 9, 2020
For Yoga teachers and health professionals
Nurses, doulas, Yoga teachers, and other health care providers will learn how to facilitate Prenatal Yoga practices in their classrooms, communities, hospitals or birthing centers. Learn breathing methods, adapted asanas (poses), and relaxation techniques that come from the Yoga tradition. Add to your toolbox, mindfulness and pain management approaches that can aid in the labor process.
Come learn how to administer Yoga, breathing techniques, and meditation to pregnant women to promote overall well-being and increase awareness.
Create a nurturing space to practice Yoga safely by modifying asanas (postures) according to the needs of each individual and trimester
Alleviate common pregnancy discomforts through asanas, breathwork, and relaxation techniques
Cultivate mindful ways to express and release stress and to manage fears and pain while pregnant and during labor
Develop the confidence and innate intuition to follow and support a holistic process of pregnancy and birthing.
Embody the spirituality, beauty, and transformation of pregnancy, birth, and motherhood.
Yoga teachers will leave the program inspired, with tools to teach Prenatal Yoga classes and with confidence in how to modify asanas for pregnant women during regular Yoga classes.
Recommended Reading (not required)
Yoga for Pregnancy, Birth and Beyond, by Francoise Barbira Freedman.
Pregnancy Health Yoga: Your Essential Guide for Bump, Birth and Beyond, by Tara Lee and Mary Attwood.
You will receive a complete manual and the Integral Yoga Hatha for Pregnant Women.
Prerequisite
Familiarity with Yoga.
Continuing Education (CE) Opportunities
Testimonial
As a long-time student of Viviana's, and having taken her Yoga Teacher Training, Prenatal Yoga Training, and Meditation Teacher Training, I've had the opportunity to witness her teach a wide array of groups. She never fails to impress me with her extensive knowledge of each subject matter. She caters to her classes and trainings to meet the needs of each group. She's a powerful speaker, delivering thought-provoking content.
As a result of Viviana's trainings, I have become a sought-after Yoga and meditation instructor. I now have the knowledge and confidence to deliver value through instruction. Viviana sees the potential in her students and fosters their growth in personal and professional avenues. I highly recommend Viviana's classes and trainings to anyone seeking a mentor or guide.
— Jennifer Cowin
Presenter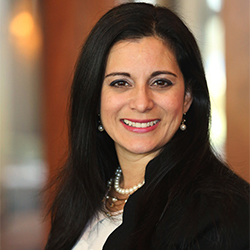 Rev. Dr. Viviana Collazo, E-RYT 500, CPYT
Viviana has been teaching Hatha Yoga, meditation, Ayurveda, metaphysics, Reiki, and other energy balancing methods since 2000. She lives in Central Florida area and serves as a Yoga/meditation teacher and spiritual counselor. Her passion is working with pregnant women; from private lessons to hospital settings, and she has been working as a Prenatal Yoga teacher since 2007. Viviana has been an Ordained Minister since 2006. In 2012, she received a Doctorate Degree in Metaphysical Studies and Comparative Religious studies through the Alliance of Divine Love International Ministry. Her dissertation was titled: Journey through a Conscious Spiritual Pregnancy and Birthing. She…
Learn more about Rev. Dr. Viviana Collazo, E-RYT 500, CPYT