LifeForce Yoga Practitioner Training for Depression and Anxiety Level 1
with Rose Kress, E-RYT 500, C-IAYT, LFYP-2, YACEP
September 13 - 20, 2020
For Yoga teachers and health professionals
LifeForce Yoga® is an empowering, evidence-based Yoga protocol to help your students and clients focus, relax, and have greater access to their feelings. These strategies can safely release chronic physical tension and repressed emotion and are appropriate for a clinical setting. This training interweaves ancient yogic wisdom with current findings in neurobiology.
Through practice, discussion, and teaching demonstrations, you will:
Tailor Yoga sessions for dysthymia (chronic depression), anxiety-based depression, PTSD, and bipolar disorder
Learn breathing and meditation practices for addressing dysthymia and anxiety-based depression
Explore somatic strategies to increase self-awareness, self-acceptance, self-esteem, and ability to cope
Discuss techniques that your clients and students can do at home
Practice methods for self-care
Amy Weintraub will be a special guest presenter for some of the sessions during this training.
Training Information
Prerequisites
Please read Amy Weintraub's Yoga for Depression before the course.
Recommended reading: Amy Weintraub's Yoga Skills for Therapists
Recommended practice: LifeForce Yoga® CD/DVD series, including Breathe to Beat the Blues and LifeForce Yoga® to Beat the Blues Level 1 and Level 2
Books are available for purchase online at Integral Yoga Distribution.
Continuing Education (CE) Opportunities
Testimonials
This program helped me to have techniques that are effective and immediate for clients who have high levels of anxiety with panic, OCD, MDD, and even self-harming behaviors. — Meagan Simms

This as an excellent training that provided many tools for use not just in LifeForce Yoga sessions, but in teaching other sessions as well. — Joanne Preece

I learned lots of ways to reduce the anxiety and depression of my patients and myself. — Aviva Sinvany-Nubel, Ph.D.

My life is already changed! I will use the tools I learned in my own practice and in my work. I feel safe and seen. — Susan Andrea Weiner
---
Presenter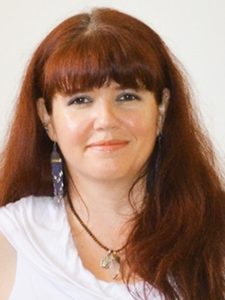 Rose Kress, E-RYT 500, C-IAYT, LFYP-2, YACEP
Rose,began practicing Yoga in 1994 and has been teaching Yoga since 2004, focusing on the therapeutic aspects of Yoga—for the body, mind, and soul. Rose teaches classes and workshops throughout the Tucson, AZ, area and has been blessed to teach at The Crossings in Austin, TX, at Yogaville in Buckingham, VA, at Kripalu in Lenox, MA, and at Sivananda Ashram in the Bahamas with the LifeForce Yoga Practitioner Training Program. She has also presented at a number of Yoga Festivals in Arizona. Rose integrates LifeForce Yoga techniques into therapeutic Yoga for back pain, cancer, pulmonary disease, structural wellness, and Yoga…
Learn more about Rose Kress, E-RYT 500, C-IAYT, LFYP-2, YACEP