Living in Your Truth: Be Fearlessly Free
with Tara (Becky) Eschenroeder, E-RYT 500, RCYT, YACEP
December 11 - 13, 2020
Navigate toward freedom from discontentment, attachments, and self-doubt by cultivating trust and acceptance during this weekend of self-exploration. Through Vinyasa flow classes accompanied by uplifting music, work from the inside out to discover how to cultivate trust and contentment. Strip away the distractions of everyday life and tune in to the ever-present and universal truth that lies within.
How much time do you spend moving toward where you want to be versus being content with where you are? What do you cling to mentally, physically, or emotionally? How could you let go of what you're clinging to and allow yourself to live more fully and deeply in the present?
Explore these questions and begin to work toward answers as you contemplate yogic philosophy and the chakras (energy centers) for guidance in trust and acceptance.
In this program, you will:
Gain an understanding of the chakras and explore them in relation to the idea of trusting and letting go
Find acceptance and contentment as you partake in visualization, discussion, journaling, and Yoga Nidra
Experience a rhythmic Vinyasa flow accompanied by uplifting music
Early registration: 2 pm
Program start time: 4 pm
Continuing Education (CE) Opportunities
Testimonials
This was my first experience at Yogaville. Becky's high level of expertise and compassion shone through every moment. The supporting staff took good care of me and the food and environment were beautiful. I am deeply grateful for the weekend. — Nayantara Kabir

This workshop was a profoundly spiritual and transformative experience. Becky integrated lecture, discussion, asana practice, music, and meditation in perfect proportion. I highly recommend this program to anyone seeking to deepen their Yoga practice. — Sarah Ravin

Becky was gracious, compassionate, and inspiring. She created a safe and loving environment for self-exploration. She was totally present and available to everyone. She has a totally fresh and creative approach to healing through Yoga. — Past Participant
Presenter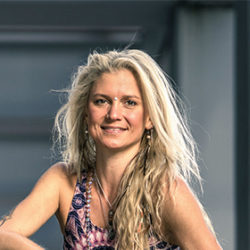 Tara (Becky) Eschenroeder, E-RYT 500, RCYT, YACEP
Tara (Becky) Eschenroeder is a certified coach and mentor, self-published author. and an accomplished yogini who was voted one of the top three Yoga instructors by Richmond Magazine in 2015. With some teachers, the lessons are planned, practiced, rehearsed, and perfected to a tee, but Tara Eschenroeder offers a different experience. Teaching was Tara's dharma long before she realized it. She grew up with a bow and arrow in her hands, learning to pull back with just enough aim and control to send her arrow into the abyss, knowing and trusting it would hit its intended mark. Likewise, she enters…
Learn more about Tara (Becky) Eschenroeder, E-RYT 500, RCYT, YACEP