Yoga for Arthritis Teachers Intensive Level 1
with Steffany Moonaz, E-RYT 500, C-IAYT, Ph.D.
October 2 - 6, 2020
For Yoga teachers and health professionals
Discover how to safely and effectively teach Yoga, with individually-tailored practices, to people with arthritis. This teacher's intensive training combines contemporary scientific rigor, Yoga philosophy, and heart.
Over 20% of US adults are living with arthritis, and 78 million people will be impacted by 2040. It is vital that Yoga professionals learn the tools and skills to work with this underserved and growing population.
In this workshop, you will learn:
Arthritis basics, joint anatomy, and the Yoga for Arthritis protocol
Asana adaptations for a limited range of motion and pain
The effect of arthritis on all koshas (layers of one's self) and the mechanisms for Yoga's impact
Yoga for Arthritis was developed by Dr. Moonaz based on her experience conducting clinical research with interdisciplinary medical teams at Johns Hopkins University, National Institutes of Health and several New York City hospitals. Health professionals will learn skills to use in their scope of practice.
Training Information
This course is approved for continuing education credits (CEUs) for Yoga teachers, Yoga therapists, social workers, and nurses. Other health professionals and individuals experiencing arthritis are welcome to attend the course, but will not receive the Yoga for Arthritis certification.
The pre-course reading will be emailed before the training.
After completing this Level 1 training, Yoga teachers are qualified to teach the evidence-informed Yoga for Arthritis program that was developed using more than a decade of research by Dr. Steffany Moonaz.
You will be eligible to continue toward Yoga for Arthritis certification, which includes Level 2 mentorship and Level 3 training.
Level 1 Prerequisite
A 200-hour Yoga teacher certification. If you have not completed a 200-hour Yoga teacher training please inquire at [email protected] or 1.800.858.9642, before registering.
Continuing Education (CE) Opportunities

Testimonials
This is an amazing training. It provides you with the tools to make your classes safer and more accessible to a greater number of people. — Christa Fairbrother

I loved the sharing and freedom of exchange of ideas and the "how to." The openness of discussion was most beneficial. I can't wait for my next YFA class and to use the teaching points I learned. — Judy M. Layne-Wood
Presenter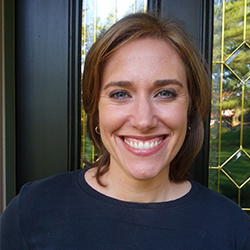 Steffany Moonaz, E-RYT 500, C-IAYT, Ph.D.
Steffany is a Yoga therapist and researcher specializing in rheumatic diseases. She currently serves as director of Clinical and Academic Research at the Maryland University of Integrative Health. She received her 200-hour Yoga teacher training at Satchidananda Ashram–Yogaville in 2003 and her 500-hour training from Yama Therapeutics. Steffany spent seven years at Johns Hopkins University, developing and evaluating a Yoga program for individuals with rheumatoid arthritis and osteoarthritis, which has been replicated in collaboration with the National Institutes of Health. She is the founder of Yoga for Arthritis, an organization bringing evidence-informed Yoga programs to people, nationwide, with arthritis, as…
Learn more about Steffany Moonaz, E-RYT 500, C-IAYT, Ph.D.