Enhance Your Wellness and Naturally Detox
with Manu Dawson, CYT, CYNTh
October 23 - 25, 2020
Learn to upregulate your system and improve the natural detoxification function of your body with food, nutrients, exercise, and lifestyle changes. Explore the physiology of detoxification, and those factors that enhance or weaken your body's ability to detox.
During interactive classes with clinical nutritionist Manu Dawson, discuss the cardiovascular disease, healthy fat loss, hormone balancing, healthy vegetarian practices and how to create an overall healthy lifestyle.
Explore the importance of integrating aspects of traditional medicine, Ayurveda, modern naturopathic and Functional Medicine.
Testimonials
I really enjoyed the 10-day detox I did with Manu this past January in the Bahamas. I found his calm demeanor and deep knowledge and experience very comforting heading into my first 10-day detox, 5 days of which was juice only. The protocol also was well crafted and made it so that I wasn't hungry or too exhausted. I felt supported by the supplements as well as his helpful information. I was surprised at how smoothly it all went and felt. I returned home full of energy and plan to incorporate many of the tools Manu imparted on us during those 10 days. — Andréa Tóth

With Manu's guidance, my digestion system improved greatly. In the course, I felt safe and supported. My body became cleaner from the inside and my mind quieter. I am energized and inspired enjoying a new level of yoga practice and meditation. — Savitri-Devi

I just want to let you know what an incredibly inspiring, healthy, stimulating and informed time I had at the recent New Year's Cleanse, detox and juice fast program at Sivananda in the Bahamas. Not only did you display a wealth of knowledge on the topic of nutrition, but you also inspired all of us with the way you have obviously adhered to the tenets of what you teach.

It's obvious that just by observing you, you have put everything you teach into practice for yourself and it clearly shows. When I first attended your program 12 years ago, I knew that I was in the presence of someone quite extraordinary. 12 years later, I left feeling the same and more. It was like time stood still for you. Thank you for being a force that has inspired positive healthy changes not only for myself but the thousand of others who have been graced by your wisdom. — John Beltzer
Presenter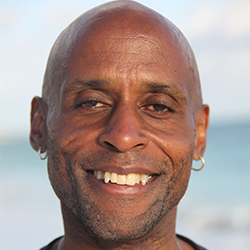 Manu Dawson, CYT, CYNTh
Manu Dawson, CYT, is a Certified Yoga Nutrition Therapist (CYNTh), and a prominent figure in the natural foods and Yoga sectors for over two decades. He offers lectures nationally on alternative nutrition, herbology, homeopathy, and advanced Yoga, incorporating Integral Yoga, Iyengar, Astanga Yoga, and pranayama (breathing practices). His seminars combine Hatha Yoga with nutrition, incorporating both Western and Eastern perspectives. Trained and certified in advanced Yoga, meditation and pranayama in the Integral Yoga system of Sri Swami Satchidananda, Manu has been both a student and teacher of Yoga for over twenty years. He has also studied nutrition and herbology for…
Learn more about Manu Dawson, CYT, CYNTh