Gentle Somatic Yoga Practitioner Level 1: Find Your Inner Yes
with James Knight, E-RYT 200, CHSE
September 4 - 9, 2020
For everyone, especially Yoga teachers and health professionals
Dive deeply into Gentle Somatic Yoga® (GSY), a method of movement re-education that strengthens the brain-to-muscle neuropathways. Learn practical and easy to implement skills that will address the root cause of most chronic muscular pain and reverse persistent stress holding patterns in the body. Experience 25+ Somatic Movement Flows® that can be incorporated into therapeutic modalities such as Hatha Yoga, Yoga therapy, physical therapy, massage therapy, and dance.
Dispell the myth of aging, discover your inner yes and regain responsibility for your own health and wellbeing. Bring back comfort to the movement of your body, improve your health, and amplify the overall quality of your life.
The science behind this method comes from Hanna Somatic Education. Learn about the green light, red light, and trauma reflex; sensory-motor amnesia, the stretch reflex; and the important technique of pandiculation. In Gentle Somatic Yoga, we do not focus on stretching muscles. Instead, we re-program muscles to their most optimal length in a resting position.
Learn how to modify the Gentle Somatic Yoga practice to meet the needs of special populations including seniors, beginner Yoga students, athletes, and individuals with special conditions such as rehabilitation from injuries, desk workers, and pregnancy.
Integrate GSY into immediate application in your everyday life. Enjoy the benefits for yourself and share this knowledge with people that you care about that are living with physical discomfort. If you are an experienced Yoga teacher, therapist, bodyworker, or movement educator, you will be able to develop one-on-one sessions, and classes that address common conditions such as neck and shoulder tension, chronic back pain, tight hips and/or hamstrings. If you are already working with special populations, then Gentle Somatic Yoga can augment your practice and continue to distinguish yourself as an expert in the field. This new skill set can dramatically accelerate all therapeutic and healing processes.
If you are unable to stay for the full six-day program, sign up for the Gentle Somatic Yoga Weekend: Awaken from Within, September 4–6, to experience a weekend of complete restoration and natural state of peace and well-being.
Certification Information
Continuing Education (CE) Opportunities
At the completion of the six-day program, you qualify to become a GSY Practitioner Level 1 with a certification add-on option. To learn more about this program and for the Certification add-on option, please click here. https://www.gentlesomaticyoga.com/shop/online-courses/online-gsy-advanced-study-level-1/ 
Testimonials
James Knight is amazing. His presentation was over the top wonderful. I feel a complete acceptance of self and I'm anxious to share this with others. — Cheryl W.

This was a conscious and gentler approach to the traditional asanas. I have done many styles of Yoga for over 30 years. This is something that I can utilize at any age. — Rosenfeld

Wow! James is so clear and concise in all his instructions. My right brain was very happy with all of his beautiful imagery. He is such a great balance in his person of Yin and Yang, masculine and feminine. Such a positive, loving being. — Agatha A. 

James embodies gentle "kindfulness" (kind mindfulness). It is a true gift to meet and be in Jame's presence. — Michelle Colgain
Presenter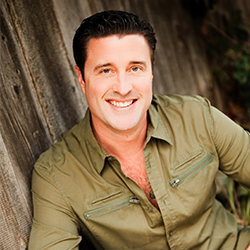 James Knight, E-RYT 200, CHSE
James has been an Integrative Therapist for over 25 years. He is a Yoga teacher (E-RYT 200) and Certified Hanna Somatic Educator (CHSE). From his combined experience as a lifelong yogi, intuitive bodyworker, psychotherapist, and movement educator, James created a method of Yoga that integrates what he discovered to be the most progressive, life-enhancing techniques into an embodied movement practice. Gentle Somatic Yoga was born out of years of exploring means of connecting and integrating the deeper aspects of the whole Self (Soma). James' passion is to awaken the possible for people living with challenges related to physical limitations. He…
Learn more about James Knight, E-RYT 200, CHSE