Everything Comes to You: Yoga of Gratitude
with Bharata Wingham, E-RYT 200, CLYT
November 27 - 29, 2020
Focus on what allows you to be effortlessly grateful in life. Drawing heavily from A Course in Miracles and timeless yogic teachings, you will learn practical tools to uncover the gratitude that is your natural inheritance rather than trying to become grateful.
Topics for this workshop include:
How to dissolve non-grateful states by practicing "The Holy Instant": a momentary suspension of disbelief
How judgments weaken the ability to be grateful and how to undo them
What to do when gratitude isn't present
Forgiveness: recognizing "who" forgives and "who" is grateful?
"Love is the way we walk in gratitude."— A Course in Miracles
Bharata's interview on Integral Yoga Podcast click here
Testimonials
Bharata's ability to use metaphors and analogies to describe and explain complex ideas is exquisite! I love his lecture-focused approach, but he is always encouraging discussion as well. Every question that was asked was answered by Bharata with eloquence, and often, humor! — Past Participant

ACIM concepts were explained with remarkable simplicity in a short program like this. Time flew by too fast, which is usually an indication of how absorbed we were in this program. Bharata displayed patience, levity, grace, and an ability to promote curiosity and application of principles. I want to thank Bharata for this amazing experience, for the gift of this weekend. It was an amazing weekend. — Sam Desai

Just wanted to let you know how much I enjoyed the Retreat and how it has inspired me. I rediscovered where I need to put my attention. I was pretty lost in the world of form and illusion for awhile and was suffering quite a bit. I feel reconnected to spirit thanks to you and all the loving people of Yogaville. — Melissa
Presenter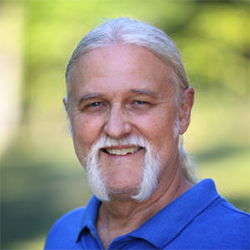 Bharata Wingham, E-RYT 200, CLYT
Bharata is a long-time student of A Course in Miracles, having worked with it daily since 1980. A Laughter Ambassador, he has trained hundreds of Laugha Yoga Leaders and led thousands of people through Laugha Yoga® sessions, a philosophy of spontaneous Self liberation. He was trained and certified in laughter Yoga by Dr. Madan Kataria, founder of the world-wide laughter clubs. For thirteen years, he produced and hosted a television program, A Course in Miracles Study Group, which was distributed in the US and abroad. While conducting numerous programs and workshops, he authored the book, An Ancient New Idea: A Primer on…
Learn more about Bharata Wingham, E-RYT 200, CLYT