Be Your Own Best Friend: Living Wholeheartedly Through Self-Compassion
with Sampada Desai, M.A., LPC, E-RYT 500, CLYL, CLYT
November 13 - 15, 2020
Learn to cultivate self-love and self-compassion through psychological principles, spiritual wisdom, Yoga, meditation, healing imagery, storytelling, and group work.
Often, we find it easier to offer compassion, kindness, and unconditional positive regard to others. Yet when it comes to ourselves, we are more likely to be highly critical, unforgiving, or unkind. Over time, depriving ourselves of compassion has adverse cumulative effects on our confidence, self-esteem, creativity, productivity, relationships, and overall happiness.
Research has shown that individuals who are self-compassionate are more likely to be resilient, optimistic, creative, and happy.
In this workshop, learn:
The importance of cultivating compassion towards all aspects of yourself
Loving guidance in becoming your own best friend
Ways to encourage others to practice self-compassion as well
Continuing Education (CE) Opportunities
Testimonials
Thank you so much for the wonderful workshop! It changed my life! Gave me so many different inspirations about so many things! You were wonderful and warm and funny and brilliant!

It has kick-started all sorts of new thoughts, realizations, understandings. — Irina Brook

Sam is very loving and fun. She is a beautiful individual, a light shining strongly. She is an amazingly happy and loving person. Her warmth and generosity in sharing her experiences provided insight that met my needs. — Rivka Cilley

Sam's joy is infectious. The experiential practices she led us to do caused a psychic shift in me. When the student is ready, the teacher will come. What an amazing teacher! So many valuable takeaways from this weekend. I feel better equipped to "give myself permission" to let things go and accept that all is as it should be at this moment. — Maria Olsen

Sam's classes are filled with wisdom, compassion, humor, and connectedness! She is knowledgeable and experienced. I left class with a warm glow and many practical suggestions on treating myself more compassionately. It was a wonderful experience. — Joan Whiteley
Presenter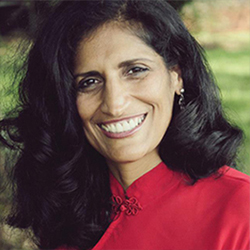 Sampada Desai, M.A., LPC, E-RYT 500, CLYL, CLYT
Sam is a licensed professional counselor with training in clinical psychology and 30 years of psychotherapeutic experience. Additionally, she is trained as a certified laughter leader and teacher trainer. She currently works as a psychotherapist at Centra Health in Lynchburg, Virginia, and maintains a private practice at her agency, Desai Counseling and Yoga. An experienced and compassionate Yoga teacher, she routinely teaches Yoga at her studio, local colleges, and other community organizations. A gifted and engaging speaker, Sam brings to her workshops a unique blend of Western psychology and Eastern mindfulness practices including Yoga, meditation, deep relaxation, healing imagery, conscious breathing,…
Learn more about Sampada Desai, M.A., LPC, E-RYT 500, CLYL, CLYT