Yoga to Deepen Meditation
with Satya Greenstone, E-RYT 500, C-IAYT
October 16 - 18, 2020
The goal of all Yoga practice is to realize the true self, which is described as permanent peace and happiness. Meditation is the doorway to this experience. Yoga practices are preparation for meditation. Each practice has a purpose and a particular focus. In this workshop, we will practice Integral Yoga with the intention of deepening our meditation experience.
In this workshop, we will practice:
Asana: physical postures to keep the body supple and strong and to establish a comfortable meditation posture.
Pranayama: breathing practices to regulate energy and thoughts
Mantra japa: Repetition of mantras to focus the mind and open the heart
Yoga Nidra: to relax the body and withdraw the senses
Restorative Poses for breath awareness, relaxation, and meditation
Meditation techniques including developing the witnessing attitude
Overcoming common obstacles that arise in meditation
All Yoga practices will be focused on establishing and/or deepening a regular and meaningful meditation practice.
Continuing Education (CE) Opportunities
Testimonials
A great overview of preparation for meditation. Satya inspires and informs. I also got great tips for concentrating my mind and hope to continue deepening my practice with these tools. — Julie (Vani) Roa

Any time spent with Satya Greenstone is a blessing. If you are interested in deepening your meditation practice, this course will be very beneficial. — Rachael Kalin

For me, this class will become the cornerstone of moving my meditation practice forward. The tools, teachings, strategies will be invaluable in all aspects of my mindful life. — Rich VanSant

I've never experienced so much grounding and clarity in my meditation. Satya truly embodies and teaches the goal of Integral Yoga as taught by Swami Satchidananda. — Jessica Lonsberry

It was a wonderful experience. Many thanks for putting together this program. Satya is such a great teacher! — Past Participant
Presenter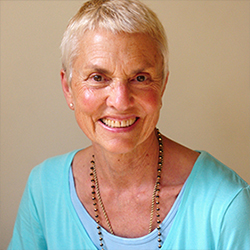 Satya Greenstone, E-RYT 500, C-IAYT
Satya Greenstone has been a student of Sri Swami Satchidananda since 1971. She has shared the teachings of Integral Yoga® in many diverse settings with students of all ages and backgrounds and combines a natural, practical, down-to-earth approach to Yoga with a gentle humor. Since 1999 she has been a primary teacher for the 200-hour and the Intermediate Yoga Teacher Training programs. While serving as teacher training coordinator, she helped to develop and teach the first Gentle Yoga Teacher Training program. She has also developed and teaches training programs in Restorative Yoga, Adaptive Yoga, and Yoga and Meditation for Children. In…
Learn more about Satya Greenstone, E-RYT 500, C-IAYT