Integral Yoga Hatha
with Satya Greenstone, E-RYT 500, C-IAYT
October 16 - 18, 2020
Integral Yoga is a complete system of traditional Yoga taught by Swami Satchidananda.
Integral Yoga Hatha offers a balanced sequence for daily practice which consists of physical poses, breathing practices, deep relaxation, and meditation. Experience the benefits of Integral Yoga through precise, guided instructions from a senior teacher, Satya who has over forty years of experience in Integral Yoga.
Discover the advantages of combining your asana practice with breath awareness, one-pointedness, and intermittent relaxation.
This workshop includes:
Complete instruction in the asana sequence and breathing techniques
Guided deep relaxation for reducing stress and to enable assimilation of the benefits of the practice
Personal guidance for adapting the practice to your individual needs
Return home with inspiration, tools, and confidence to incorporate Yoga into your daily life and enjoy the resulting benefits of health and happiness.
Continuing Education (CE) Opportunities
Testimonials
Satya emanates an authentic love and shares that love with the students. She was very clear, compassionate and concise. 

Satya held such a large healing and supportive space for us. She teaches from the heart and leads me to my heart while "sneaking" lots of "academia" in under the radar. When you fully show up, and sometimes just barely at that, you're blessed with knowledge, support, and growth. 

Awesome. Truly grounded, fun, humorous and educated in this path.

It was a wonderful experience. Many thanks for putting together this program. Satya is such a great teacher!

Satya is approachable, friendly, caring, available, and genuine. Her love and knowledge of Swami Satchidananda's teachings are apparent and appreciated.

— Past Participants
Presenter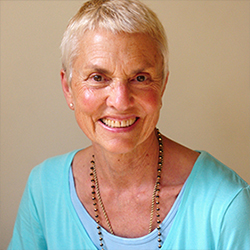 Satya Greenstone, E-RYT 500, C-IAYT
Satya Greenstone has been a student of Sri Swami Satchidananda since 1971. She has shared the teachings of Integral Yoga® in many diverse settings with students of all ages and backgrounds and combines a natural, practical, down-to-earth approach to Yoga with a gentle humor. Since 1999 she has been a primary teacher for the 200-hour and the Intermediate Yoga Teacher Training programs. While serving as teacher training coordinator, she helped to develop and teach the first Gentle Yoga Teacher Training program. She has also developed and teaches training programs in Restorative Yoga, Adaptive Yoga, and Yoga and Meditation for Children. In…
Learn more about Satya Greenstone, E-RYT 500, C-IAYT