Kids Yoga Program – Aug.
with Nitya Griffith, E-RYT 200, CRYT
August 21 - 23, 2020
Bring your kids with you while you enjoy this weekend!
This is a childcare program for guests who come to Yogaville with children ages 5–11.
While you are in your program, you can feel relaxed knowing that your children are being well looked after by our experienced staff. They will be entertained with arts and crafts, chanting, meditation, Yoga, swimming, hiking, and outdoor adventures that will keep them active and inspired.
In addition, they'll learn about ashram life, Integral Yoga®, and Sri Swami Satchidananda.
Schedule
Friday
4 pm   Friday afternoon registration
6 pm   Connect with families and meet in the multi-purpose room of Sivananda Hall
6:30    Dinner (with parents until 7:30)
7:30    Opening circle with introductions, Nitya Living Hatha class for kids, meditation, Yoga Nidra, and read: Child's Journey into Yoga and discuss Japa Yoga and the branches of Yoga. Chanting to directly experience the power of Japa Yoga
8:45   Free time: board games, legos, reading, drawing
9:30   Meet parents at Sivananda Hall 
Saturday
Morning
8 am   Breakfast (with parents until 9:30)
9:30    Nitya Living Hatha class for kids, meditation, Yoga Nidra, chanting, and read: Enlightened Tales and discuss who Sri Swami Satchidananda is, and the Limbs of Yoga, the ethics of Yoga
10:30  Nature hike through the woods from Kailash to Karuna Lane
11:30   Free time: playground, legos, coloring mandalas, games, and books
12:45   Lunch (with parents until 2 pm)
Afternoon
2 pm   Hiking to LOTUS lake for a swim3:45 Read: Moody Cow Meditates and make mind jars. Use mind jars for
meditation tool leading into Yoga Nidra
4:15    Free time: playground, legos, coloring mandalas, games, and books
5:30    Dinner (with parents until 7:30)
Evening
7:30    Satsang (Children must be with their parents or with Nitya in the multi-purpose room in SH for playing)
Sunday
Morning
8 am   Breakfast (with parents until 9:45)
9:45    Opening Circle with kirtan and Nitya Living Yoga Class
10:45  Read: The Secret of Water. Understanding the power of vibration. Hike into the woods, each camper will spend time connecting to one tree in a nature meditation.
11:30   Craft: group Integral Yoga sand mandala. Clean up – Free Time
12:45   Lunch (with parents until 2 pm)
Presenter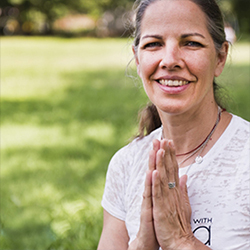 Nitya Griffith, E-RYT 200, CRYT
Nitya, the founder of Nitya Living™, has been an Integral Yoga teacher since 2005. She offers creative children's Yoga programs with asanas, meditation, mindfulness practices, and breathing practices through storytelling and original songs. Nitya has published the Yoga with Nitya Kid's Yoga DVD; the Satchidananda Ashram–Yogaville Coloring Book: A Child's Journey into Yoga; Yoga with Nitya Cookbook: Seasonal, Local, Vegetarian Meals for a Healthy Family; and her latest Musings from Mat: Inspirations and Poetry. See more at nityaliving.com
Learn more about Nitya Griffith, E-RYT 200, CRYT