Fall Silent Retreat: Finding Balance in the Midst of Change
with Ram Wiener, E-RYT 500 and Senior Staff
October 8 - 11, 2020
Discover the Yoga practices that will enable you to embrace unexpected changes and difficult situations while maintaining your peace and joy. During this Silent Retreat, experience a safe and peaceful environment in which you are able to tune in to your inner intelligence and make space for unique growth.
We live in an era of rapid technological advances, unexpected changes, and overwhelming stimulus. How do we navigate through it all with comfort? Learn to be more accepting of any situation, trying not to resist it, but instead, embracing each moment while maintaining your peace.
What to Expect
Since 1970, Integral Yoga Silent Retreats have provided the sanctuary and solace everyone needs from time to time. Surrounded by a serene woodland landscape, you will immerse yourself in silence while teachers offer experiential classes in:
Yoga philosophy
Meditation
Breathing techniques
Yoga postures
Deep relaxation
Support
During the retreat, you will have the opportunity to seek support and clarification by asking questions in written form.
Private mentoring is also available.
All Are Welcome
These retreats are open to everyone, from beginners to advanced Yoga retreatants. Those who are new to meditation or Yoga practices will receive full instruction, while those with experience will have the opportunity to deepen their practice.
Testimonials
Beautiful and restorative experience. I was able to reset, rest and access an important part of myself. I feel deeply nourished and ready to reintegrate back into my homelife. — Claire Pallandre

Yogaville is a safe haven for my soul. Having this rare and beautiful space to rest, to learn and to connect and to grow is a true gift and I am truly grateful. A true escape from my hectic city life. I finally feel like I can breathe. All parts of me feel alive again. — Elissa Gross

For those searching for some grounding in this day and age, this is for you. Quite often (and I was here for just three days) I found myself smiling for no good reason. There was this sense of joy which I had not witnessed in a while. I'll be back and I will miss the ashram! — Sid

In our world, we had become so busy in mind and body. In the silence, we give ourselves permission to become a human "being" rather than a human "doing". Just be and you can help yourself discover who you really are in the silence. — Mona Lee
Presenters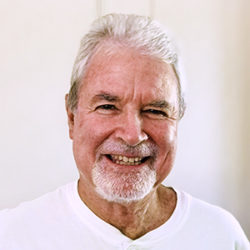 Ram Wiener, E-RYT 500
Ram Wiener is one of the foremost administrators and teachers at Yogaville. He serves as vice president of Programs, overseeing the Integral Yoga Academy, all of the teachers' programs, the Department of Program Development and Advertising, as well as the Ashram businesses. A skilled teacher, Ram is certified in Meditation, Raja Yoga, Children's Yoga, Adaptive Yoga, Gentle Yoga, and Intermediate Hatha Yoga. Ram is a native of Central America and is fluent in Spanish, Portuguese, French, and English. He has organized many successful tours in Italy and Latin America, including ones to Mexico, Costa Rica, Guatemala, Peru, and Puerto Rico.
Learn more about Ram Wiener, E-RYT 500