Yoga for Strong, Healthy Bones
with Satya Greenstone, E-RYT 500, C-IAYT
September 24 - 27, 2020
Discover how Yoga can help to build and maintain strong bones with safe and proven methods for reversing and avoiding osteoporosis and osteopenia, the precursor to osteoporosis. Dr. Fishman's Method, consisting of 12 Yoga poses, has been proven to increase bone density for students with osteoporosis or osteopenia and prevent bone loss in people without those diagnoses.
This workshop will include:
Complete instruction and practice of Dr. Fishman's 12 poses for bone strength and health
Guided relaxation for assimilating the benefits of the poses
Restorative Yoga practices for stress reduction
Principles of yogic diet that support overall health and strength
Balanced Integral Yoga lifestyle and practices for health and happiness
Continuing Education (CE) Opportunities
Testimonials
Satya Greenstone's class guides one through a specific Yoga practice that is safe and effective in maintaining bone health. Satya's teachings are clear, gentle and complete. She is radiant light and passionate about helping people to have optimum health and bone health in particular. — Past Participant

When you complete this class, you will leave empowered to follow a simple routine that will, over time, transform your bone strength leading you toward a healthy future. I highly recommend this class. — Past Participant

Satya emanates an authentic love and shares that love with the students. She was very clear, compassionate and concise. — Past Participant

Always kind and generous with her time and goodwill! She certainly knows how to have people feel included and comfortable- She's an excellent instructor/teacher. Expectations clearly stated and paced according to her knowledge of how people learn best without stress! Supports all students! — Elizabeth H.
Presenter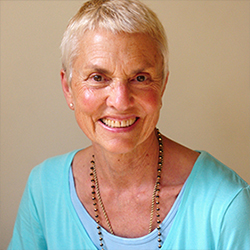 Satya Greenstone, E-RYT 500, C-IAYT
Satya Greenstone has been a student of Sri Swami Satchidananda since 1971. She has shared the teachings of Integral Yoga® in many diverse settings with students of all ages and backgrounds and combines a natural, practical, down-to-earth approach to Yoga with a gentle humor. Since 1999 she has been a primary teacher for the 200-hour and the Intermediate Yoga Teacher Training programs. While serving as teacher training coordinator, she helped to develop and teach the first Gentle Yoga Teacher Training program. She has also developed and teaches training programs in Restorative Yoga, Adaptive Yoga, and Yoga and Meditation for Children. In…
Learn more about Satya Greenstone, E-RYT 500, C-IAYT