Yoga TWOgether
with Raama Das, E-RYT 500, C-IAYT, YACEP and Satya Lynn
September 18 - 20, 2020
Come explore connection, support, trust, and communication as you dive into the foundations of partner Yoga TWOgether ™. Sign up with a friend, loved one, sibling, co-worker, neighbor, or just yourself. All ages and ability levels are welcome.
Find ease and balance in your yoga practice and your relationships. While breathing, stretching, strengthening, and balancing TWOgether, we cultivate coordination, openness, and patience.
Explore simple and creative gravity-defying challenges to foster supportive fun and adventure. Examine all aspects of your being and the benefits of partnering for a spiritual connection to thrive TWOgether. This weekend, you will have the opportunity to apply compassionate communication techniques, and practice mindfulness while implementing components of modern empowered living.
Staying present and connected in this exceptional program you will:
Enjoy spirited, nurturing, life-affirming practices
Deepen compassion for each other and yourself
Develop confidence and collaboration while strengthening relationships
Experience an exploration of breathwork, creative yoga postures, playful acrobatics, massage practices, and deep relaxation
Create your own practical and purposeful partner routine and dharma (way of living) to implement at home
Whether you are a yoga novice or a regular practitioner, this workshop is guaranteed to be one-of-a-kind. Experience Yoga TWOgether™ and transform the mind, body, and spirit!
10% off Tuition and accommodation when registering with a friend or partner. Use discount code TWOgether2020 when registering
Continuing Education (CE) Opportunities
Testimonials
Raama is very knowledgeable and shares it in a very relatable way. He was so clear and happy to re-explain whenever needed. The entire weekend flowed really nicely. The kindness and supportive vibe made all feel welcome. I (as a teacher myself) loved seeing the staff jump in to help make the poses accessible to all.

Satya gets two thumbs up and five stars. She is approachable, friendly, caring, available, and genuine. Her love and knowledge of Gurudev's teachings are apparent and appreciated.

Satya's gentle, kind nature makes her a joy as a teacher. I felt nurtured.

— Past Participants
Presenters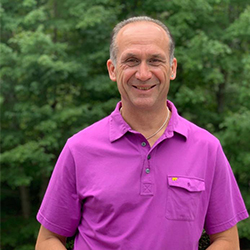 Raama Das, E-RYT 500, C-IAYT, YACEP
Raama Das is a former director of the Integral Yoga® Teachers Association and has been instructing Integral Yoga since 2009. He is a lead trainer for the Integral Yoga 200-hour TT at Yogaville and co-presents both the 200 and 500-hour Yoga Alliance programs at Heal Me Institute in Fredericksburg. Raama recently received certification as a Yoga Therapist through the International Association of Yoga Therapists (IAYT), having studied Yoga programs for specific health conditions, including, anxiety, depression, cancer, heart disease, arthritis, and addiction. He is also certified as a teacher of Intermediate Hatha, Raja Yoga, Meditation, Stress Management, Yin Yoga, and Yoga for…
Learn more about Raama Das, E-RYT 500, C-IAYT, YACEP
Satya Lynn
Satya, a Certified Yoga Therapist, Exercise Physiologist, and Holistic Health Educator discovered the power of the practice after a serious dance injury in college.  Yoga helped heal her body, relieve her daily stress, and find her balance.  Connecting with the breath during meditation and exploring mindfulness during the postures became effective tools to guide her through her own traumas to a place of healing.  Satya's motto is to share joy and inspiration—one breath and smile at a time!
Learn more about Satya Lynn