Laugha Yoga 3-Day Leader Certification
with Bharata Wingham, E-RYT 200, CLYT
August 14 - 16, 2020
For everyone, including Yoga teachers and health professionals
A fun way to awaken yourself
and others to the love of laughter.
Experience firsthand how intentional laughter can lead to being happy for no reason. Through yogic laughter sessions, pranayama, meditation, and Laugha Nidra®, you can reach a profound level of peace, joy, and relaxation.
In this program, you will:
Learn to lead a Laugha Yoga® class
Get certified and learn to lead Laugha Yoga Sessions
Discover why prolonged, intentional laughter is being recognized as therapeutic
Learn how to use laughter as a form of Social Yoga
Receive a  Laugha Yoga Leader's Manual, downloadable zip file filled with printable handouts and graphics of laughter benefits, writings and audio/video
After completion, your contact information will be listed at laughteryoga.com, and enjoy a 90% discount for access to Dr. Madan Kataria's worldwide Laughter Yoga ProZone website for six months
Review without manual and CD: $135
Continuing Education (CE) Opportunities
Testimonials
Bharata is knowledgeable and led a great three days. We got way more than we expected. — Lucy L.

I signed up for this training on a lark because I was looking for a weekend getaway and thought it would be fun. It was more fun than I even imagined! I'm leaving with new ideas about how to make laughter and joy a part of my spiritual life and also plan to incorporate it in some of the organizations where I volunteer. You don't need plans to teach Laugha Yoga to take this course. All you need is a desire to bring joy in your life! — Kara B.

I came to this workshop as a research educator and I walked away with an unexpected sense of calm and healing. Laugha Yoga has opened a well of joy and bliss I did not know I had inside myself. — Rachel D.  
Presenter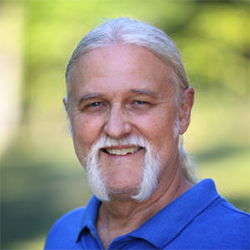 Bharata Wingham, E-RYT 200, CLYT
Bharata is a long-time student of A Course in Miracles, having worked with it daily since 1980. A Laughter Ambassador, he has trained hundreds of Laugha Yoga Leaders and led thousands of people through Laugha Yoga® sessions, a philosophy of spontaneous Self liberation. He was trained and certified in laughter Yoga by Dr. Madan Kataria, founder of the world-wide laughter clubs. For thirteen years, he produced and hosted a television program, A Course in Miracles Study Group, which was distributed in the US and abroad. While conducting numerous programs and workshops, he authored the book, An Ancient New Idea: A Primer on…
Learn more about Bharata Wingham, E-RYT 200, CLYT