Total Relaxation with Restorative Yoga
with Satya Greenstone, E-RYT 500, C-IAYT
July 17 - 19, 2020
When your body is at rest and your mind becomes calm, you can experience the peace within.
This workshop offers complete instruction in gentle restorative poses, as well as:
Balanced sequences of Restorative Yoga Poses
Yoga practices for stress management, relaxation, and rejuvenation
Gentle poses that enhance the breathing capacity
Simple poses for everyday practice
Healing aspects of Restorative Yoga
Since the poses are supported by props, they can be held effortlessly for an extended period of time. This results in a state of deep relaxation, where the innate intelligence of the body becomes balanced and the entire system returns to its natural state. The supported poses are also beneficial during times of major life changes, crises, or when recovering from an illness or injury.
All props will be supplied. This program is open to students of all levels and styles of Yoga. Individual assistance will be available.
Continuing Education (CE) Opportunities
Testimonials
Satya was wonderful! I learned a lot from her and her voice was a stress reduction in itself. — Sue Bechtel

First of all, I love my teacher. She is so knowledgeable and such a peaceful being that I enjoy so much! Restorative Yoga is a wonderful practice to calm and relax! Yummy! — Sundari

[Satya] has a very calming, grounding effect. [She is] very attentive to the different needs of attendees. — Past Participant

Satya emanated an authentic love and sharing of that love with the students. She was very clear, compassionate, and concise. — Past Participant 
Presenter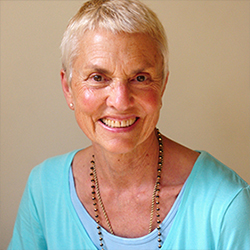 Satya Greenstone, E-RYT 500, C-IAYT
Satya Greenstone has been a student of Sri Swami Satchidananda since 1971. She has shared the teachings of Integral Yoga® in many diverse settings with students of all ages and backgrounds and combines a natural, practical, down-to-earth approach to Yoga with a gentle humor. Since 1999 she has been a primary teacher for the 200-hour and the Intermediate Yoga Teacher Training programs. While serving as teacher training coordinator, she helped to develop and teach the first Gentle Yoga Teacher Training program. She has also developed and teaches training programs in Restorative Yoga, Adaptive Yoga, and Yoga and Meditation for Children. In…
Learn more about Satya Greenstone, E-RYT 500, C-IAYT