Connect to Your Self through Five Elements in Nature
with Gita Kali Natarajan, RYT 500
May 1 - 3, 2020
Immerse yourself in the five elements of nature through Swakriya Yoga. Swakriya means the 'movement' (kriya) of 'I' (swa)—the Supreme Self in the form of movement.
Practice Yoga poses, mantras, mudras (hand positions), and pranayama (breathing exercises) while calibrating your chakras to each element. Enjoy kirtan (devotional chanting) and homa (fire ceremony) and connect with nature by spending time in the forest and by the river, weather permitting.
All of these practices will seamlessly combine to bring a sense of oneness and connection to all. When you are fully balanced in nature, you feel more connected to yourself, to the Divine, and to all creation.
Continuing Education (CE) Opportunities
Testimonial
Gita's influence is as blinding as her gigantic smile. She can perfect people's poses with the press of a finger and move from silliness to profundity in the span of a sentence. Her fresh, jubilant, and always amusing methods are unique. What more do you want? — Andy
Presenter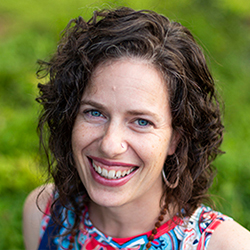 Gita Kali Natarajan, RYT 500
When Gita chants you can feel the devotion through her voice and heart. She chants as much as she can in and around DC, MD, and VA, and occasionally tours abroad. She started chanting when it became an integral part of her work with children with special needs and hasn't been able to stop. She never had a harmonium lesson or a workshop on how to lead kirtan but was led by her heart to just do it and see if anyone showed up. Over 8 years of leading kirtan, creating the DC Kirtan Festival, touring with Swami Gurusharanananda from India, and chanting…
Learn more about Gita Kali Natarajan, RYT 500