Summer Silent Retreat: Abiding in Your Light
with Reverend Sam Rudra Swartz, IYM, E-RYT 200, RCYT, YACEP and Senior Staff
June 11 - 14, 2020
Through the many challenges daily life presents, it can be difficult to remain peaceful and content in every moment. Join other like-minded seekers to go within and find serenity in daily life during the Summer Silent Retreat.
Peace is within us at any given moment—we only have to tap into it. By cultivating stillness and calming the mind, the ever peaceful Self is revealed.
Through silence, yogic practices, and yogic philosophy, you will have the opportunity to access your inner peace and joy, love and light. Learn how to develop santosha (contentment) and experience sincere acceptance and satisfaction in your life.
What to expect
For over 45 years the Integral Yoga silent retreats have been offering participants a safe, supportive space to focus on their spiritual practice. Surrounded by a serene woodland landscape, you will have the opportunity to immerse yourself in silence while seasoned teachers offer experiential workshops and classes in Yoga philosophy, meditation, deep relaxation, and more.
Private mentoring is available. You may also seek support or clarification during the retreat by asking written questions.
Who can attend
Integral Yoga Silent retreats are open to everyone—from beginners to advanced Yoga retreatants. Those who are new to meditation or Yoga practices will receive full instruction, while those with experience will have the opportunity to explore more deeply.
Testimonials
The speakers were so enlightening. Morning meditation with Mataji was a sacred and magical gift I will cherish. — Kathryn Biegman

I'm so impressed by the warmth, love, commitment to detail, and making everything as perfect as possible. You have high standards for yourselves and your program, but you are so flexible and loving at the same time. — Kathryn Biegman

Thank you so much for a wonderful retreat and experience. It was just what I needed to refresh my spirit! — Past Participant
Presenters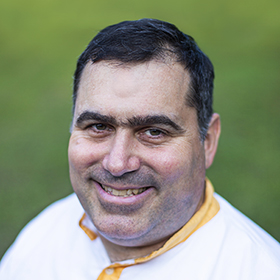 Reverend Sam Rudra Swartz, IYM, E-RYT 200, RCYT, YACEP
Reverend Rudra was introduced to Integral Yoga and the teachings of Sri Swami Satchidananda in 2001. Since that time, he has been active in the Integral Yoga organization, living at Yogaville and the Integral Yoga Institute of New York. He recently completed Accessible Yoga Teacher Training offered through Integral Yoga Institute in San Francisco. Rudra graduated from Boston University's College of Fine Arts and is an active musician. He leads Kidding Around Yoga (KAY) teacher trainings and has served as a Camp Yogaville director for 7 years. Rudra is a graduate of the All Faiths Seminary in New York, where he received ordination…
Learn more about Reverend Sam Rudra Swartz, IYM, E-RYT 200, RCYT, YACEP