Yoga of Recovery – MODULE: Between the Mat and the Meeting
with Durga Leela, E-RYT 500
June 18 - 25, 2020
Health and recovery from addiction and disease involve fully living in the wholeness that you are. By recognizing your innate strengths and stress-response tendencies, you can learn to revitalize your body's systems rather than to depend on addictive, unhealthy behaviors.
In this Module, you will learn:
Ayurvedic healing tools for all addictive tendencies
How to build a strong foundation for living well and learn about stress, digestion, sleep hygiene, and detoxification
Practices for deep self-care and emotional regulation through simple Ayurvedic daily routines that you can practice at home
Optional 12-step meetings will be offered throughout the course.
If circumstances prevent you from taking the entire module, you have the option to register for Yoga of Recovery® – WEEKEND, on June 18–21, 2020.
Module Information
Prerequisite
Open to all. We suggest at least three months of continuous sobriety for alcohol/chemically dependent guests, as we are not a medical/detox facility. Please contact us if you feel able to attend in your early sobriety—we'd like to ensure that the retreat is the best option for you. Those with eating disorders or behavioral addictions should have enough stability to embark on this work.
Yoga of Recovery® – Module: Between the Mat and the Meeting is part of a longer,  in-depth certification program suitable for professionals and coaches who work with those on journeys of recovery. Each Module is a stand-alone course.
Continuing Education (CE) Opportunities
Testimonials
Yoga of Recovery: Between the Mat and the Meeting not only helped to deepen my understanding of my addictive/destructive behaviors, but gave me specific practices to integrate into my daily life. I'd highly recommend this program to anyone! — Surya Huebner

I thought this program would be a neat recovery boost and a fun getaway. It was so much more! I got more than I could've ever imagined. — Past Participant

Just the best place ever. Training was thorough and fascinating. The experience was beyond words. Thank you. — Annie Marks
Presenter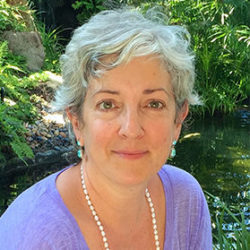 Durga Leela, E-RYT 500
Durga Leela is a practical, down-to-earth, and to-the-point speaker who has worked on her own path of recovery. Trained in Ayurveda in both the U.S. and India, she is the director of the Ayurveda Programs at the Sivananda Yoga Farm in Grass Valey, CA, and a professional member and conference speaker for the National Ayurvedic Medical Association (NAMA) and International Association of Yoga Therapists (IAYT). Durga has been interviewed for all Recovery 2.0 online conferences. See more at YogaOfRecovery.com
Learn more about Durga Leela, E-RYT 500