Kidding Around Yoga Training
with Haris "Harini" Lender
May 28 - 31, 2020
For everyone, especially Yoga teachers, school teachers, and health professionals
This blended training combines online independent learning with four energetic, dynamic days of classroom instruction.
Get ready for four exciting days of hands-on instruction covering breathing practices, meditation, deep relaxation, asanas, games, activities, arts and crafts, business and marketing, and so much more.  You'll also receive a link to a huge catalog of original Kidding Around Yoga (KAY) music. Incorporating Yoga poses and fun cardio activities, this music takes any kids' class up a notch. Kids love Kidding Around Yoga, and so will you!
With KAY, you can start your own kid-centered Yoga business, enrich your adult classes, bring something special to your academic classroom, or even introduce your own family to the benefits and joys of Yoga. This training can enhance your career, change your life, and benefit the lives of all beautiful young yogis. Just ask our grads!
When signing up, you will receive the information needed to create an account with OKAY – Online Kidding Around Yoga. There, you will find learning modules. The first two will prepare you for your intense, fun, four-day live training. The remaining modules give you the chance to use and review the massive amount of knowledge you just received in your training.
Your tuition includes:
Instant access to Online Kidding Around Yoga. Please complete the first two modules before you arrive at your Live Training.
Four-Day Live Training: Tons of fun, friends, and a program that will change your life.
A copy of our OM-azing training manual that you will receive once you arrive at your live training.
Kids Yoga Music: The message is in the music. And the magic is in the movement. Gain lifetime access to all KAY music and all future renditions.
Inclusion in the KAY Facebook forum: We have thousands of members ready to support you.
Access to Teachers' Resources with more info than you could ever use in a lifetime.
Marketing videos that will help you to show folks who you are and what you do to help you build your business.
A discount on insurance! Kidding Around Yoga professionals save $40 and trainees get their first year for only $25: BeYogi Insurance. Insurance is applicable within the United States only and to those professionals who meet the state's requirements, where applicable, to practice Yoga.
Five-month access to the entire online training: This site contains your entire training in videos and online modules for you to study after your live training. You will have plenty of time to digest the vast wealth of knowledge you've just acquired, but we always recommend joining our OKAY Plus Membership to get unlimited access and exclusive resources from the best of the best. With over 4,000 teachers all over the world, we've compiled the best games and arts and crafts and activities for your little yogis and organized them in a way that's easy to use for any of your classes.
Tuition of $425 includes $275 in-person plus $150 online component

No discounts apply to the online component.
BFF discount: Sign-up with your friend (or friends) and get 20% off each in-person tuition.
For ages 12–17 total tuition is $200 (no discounts apply) 
Training Information
Prerequisites
All students are required to finish modules one and two of OKAY BEFORE receiving their certificate. This will take approximately 4–6 hours to complete depending on your pace. Please do this before your live training so you, too, can be in the know. It is easier for students and teachers if everyone starts on the same page. Here is a glimpse of what's in store for you with our Sample Training.
You do NOT need a prior Yoga teacher training to attend KAY trainings. Kidding Around Yoga is designed for anyone who loves to work with kids.
Since WE DO NOT REQUIRE A BACKGROUND IN YOGA, we highly recommend that you take some Yoga classes before the training. KAY offers an online introduction to Yoga course with a special discount for our students, it's a great course to get you started. Use the discount code "KAYstudent" at checkout to receive 25% off the online introduction to Yoga Course. Click HERE to familiarize yourself with the poses we will focus on.
Continuing Education (CE) Opportunities
Testimonials
The founder of Kidding Around Yoga, Haris Lender, is such an inspiration. It is not often you go to a training and meet the founder, and much less, get trained first hand by that founder. As they say, the 'proof is in the pudding', and just looking at her following, and hearing about her 50 kids (plus) classes she teaches to children of all ages and backgrounds, is enough to know that what she does, teaches and believes in, is something special. I love to hear her talk about the children that attended her kids' Yoga classes, and now practice Yoga every day in their college years..and thank her for it! — Linda

I've been teaching kids Yoga for a little over a year. I decided to get KAY Certified to open up opportunities to teach elsewhere. The KAY training has transformed my classes. I was confident in my teachings before, but this provided so many tools and fill in the puzzle pieces that I didn't even realize were missing and created a great flow for the children and myself included. I love the KAY program and am absolutely recommending it to any of my yogi friends wanting to take that leap to children's Yoga. Thank you Kidding Around Yoga! — Sarah
Presenter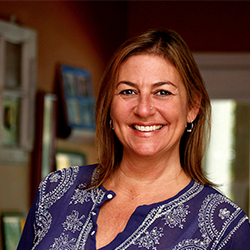 Haris "Harini" Lender
Haris "Harini" is the founder of Kidding Around Yoga, a certified Integral Yoga teacher at the 500-hour level and is also certified in Prenatal, Raja, Children's Yoga, and Stress Management. She lives in Florida with her husband and children and enjoys spending time in her yurt in Yogaville. During her eleven years of running Camp Yogaville, Haris wrote songs and skits, managed counselors, teachers and kitchen staff, and developed skills that would help her along the way to creating Kidding Around Yoga. Haris is extremely grateful to her teacher Swami Satchidananda, and to all of the Swamis, friends and teachers at…
Learn more about Haris "Harini" Lender