Yoga for Everyone: Creating Inclusive and Accessible Yoga Spaces
with Dianne Bondy, E-RYT 500
May 15 - 17, 2020
For everyone, especially Yoga teachers and health professionals
Join Dianne Bondy for a series of sessions that seek to make Yoga an inclusive practice for bodies of all shapes, sizes, and abilities. Through in-depth, open forum discussions, practical hands-on asana labs, and interactive Yoga practices, you'll learn how to deconstruct the values, norms, and perceptions that guide the current Western view of Yoga, beauty, and success.
By the end of this workshop, you'll learn how to apply the principles and practices of Yoga in order to create inclusive spaces where all bodies can be supported, challenged and able to participate in asana practice.
Learn how to structure accessible Yoga classes using socially informed language, innovative modifications, and conscious movements, in order to broaden your teaching style so that it caters to marginalized people.
Develop your personal practice or inspire your students to be more creative, progressive and comfortable on the mat!
Early Registration: 2 pm
Tuition includes Dianne's book Yoga for Everyone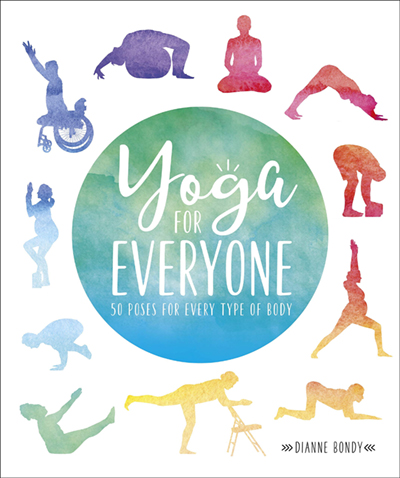 Training Information
Continuing Education (CE) Opportunities
Module 1: The Principles of Accessibility: An Introduction to Yoga, Diversity and Body Image
Module 1 is an engaging conversation that delves into the topics of Yoga, diversity and body image. This discussion provides a solid foundation for the in-depth explorations that follow in later modules.
Topics include:
What is diversity in Yoga and who gets to define it?
How does Yoga, Social Justice, and Body Image intersect in changing the current social structures
Why are some bodies deemed more valuable than others?
Perceptions of Yoga in the media
Strategies to help combat the "Yoga body" narrative
Engaging underserved communities: How do we invite others to the practice?
Module 2: Creating Accessible Spaces
In Module 2, we will begin to uncover practical methods and strategies to help you engage with individuals in marginalized communities such as communities of color, older adults, people in larger bodies, and people with disabilities. This discussion will provide you with actionable tools to help you take your Yoga off the mat and into your community.
Topics include:
The power of language
Consent on the mat
Methods of teaching in non-traditional spaces
Accessible Yoga class planning and execution
Teaching from the 8 limbs of Yoga: How the Yamas and Niyamas support and promote inclusion and accessibility
Module 3: Developing Progressive, Accessible, and Adaptable Yoga Classes
Building on the topics discussed in the preceding modules, Module 3 provides practical instructions and cues to help you build and structure Yoga classes that focus specifically on the themes of body positivity and self-acceptance. This module is delivered in a practicum style, as you will be invited to integrate the learning material on your Yoga mat.
Module 3: Inclusive Warm-ups, Use of Props, and Take Action
Learn how to create inclusive and innovative warm-ups and how to use props for different body types and ability levels.
Take action: asana break, modifications, and variations for the following postures:
Standing poses
Seated, twists and supine poses
Transitions
Sun Salutes for all bodies
Chair Yoga
Innovative sequencing
Accessible Vinyasas
Yoga at the Wall
Module 4: Going deeper the Asana Research Lab
Adapting Vinyasa flow, Inversions and Arm balances for All bodies (Great for Teachers and students)
Let's explore Yoga for all levels, shapes, and sizes as an expression of joyful movement. Working in a non-competitive environment, we will explore some of the more challenging poses such as inversions, arm balances and vinyasa flow. This practice will be supportive and challenging. You will learn how to observe your students and learn your own practice through a new and more attuned lens. As you progress through this practice, you'll discover your inner strength while exploring the path to self-acceptance.
Bring your questions, your ideas, and your asana and let's flow freely as we share in this inspiring practice.
Module 5: Space to Embrace and Practice Together
It is time to apply what you have learned. Join Dianne Bondy in an accessible follow the yogini style Yoga practice designed to help you safely explore the themes of self-acceptance compassion and body peace. This unique practice builds community in a collaborative fun learning environment by integrating progressive, challenging asana, and open-dialogue discussions centered on the philosophy of Yoga as it relates to equanimity and unity. Explore asana, breath, and the mind-body connection in a way that illuminates your strength and creativity.
Let's explore our values and how we show up in the world. Come and enjoy the unique experience of standing in your power as you connect with your inner light!
Testimonials
As a teacher of teachers, I am in awe of your ability and experience in anticipating areas of nurturing need in your participants. You go so much further than merely creating and holding a safe and inviting learning environment. — Stacy S.

Thank you for this training! I can't wait to be a different kind of teacher and share this gift of inclusive Yoga. — Lisa Parks
Presenter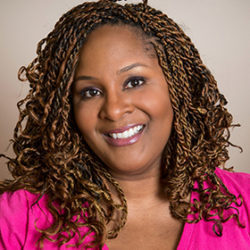 Dianne Bondy, E-RYT 500
Dianne is a celebrated Yoga teacher, social justice activist, and leading voice of the Yoga For All movement. Her inclusive view of Yoga asana and philosophy inspires and empowers thousands of followers around the world regardless of their shape, size, ethnicity, or level of ability. She applies over 1000 hours of training to help her students find freedom, self-­expression, and radical self-­love in their Yoga practice. She shares her message and provides millions of followers with affordable access to online Yoga classes, workshops, and tutorials at her virtual studio: Yogasteya.com. Dianne contributes to Yoga International, Yoga Journal, Do You Yoga,…
Learn more about Dianne Bondy, E-RYT 500