Transformation: Practical Approaches for Letting Go
with Swami Karunananda, E-RYT 500
March 20 - 22, 2020
Feeling stuck in undesirable habits, environments, or relationships? Wondering why you can't let go? Make a change using yogic principles and practices. Join Swami Karunananda to learn about the nature of attachment and how to harness the energy of your will, emotions, and intellect to free yourself from suffering and affect positive change in your life.
Now is the time to actualize your potential and realize your goals. Learn how forgiveness issues can be resolved and released.
This weekend, you'll explore:
Affirmation
Visualization
Meditation
Prayer
Witnessing and analyzing the mind
With every thought, word, and deed, we pave the way for liberation or greater bondage. Learn how to walk through life more peacefully, skillfully, and joyfully.
Continuing Education (CE) Opportunities
Testimonials
The Swami is incredible. So knowledgeable, down to earth, compassionate, articulate, and funny! She clearly takes the practice seriously but not herself. — L. Misztal

This program was life-transforming! The knowledge, time, and love put into this program for each participant's experience are more than I could ask for! — Megan Hainstock
Presenter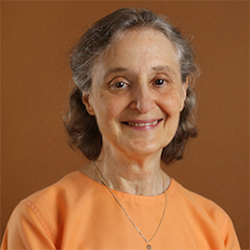 Swami Karunananda, E-RYT 500
Swami Karunananda, is a senior disciple of Sri Swami Satchidananda. In 1975, she was ordained as a monk into the Holy Order of Sannyas. She has had over 40 years experience teaching all aspects of Yoga and specializes now in workshops, retreats, and teacher training programs that focus on the science of meditation, the philosophy of Yoga, personal transformation, and Yoga breathing techniques for better health and wellbeing. She developed, and for over 25 years has taught, the Integral Yoga® Teacher Training programs in Raja Yoga and in Meditation. Swami Karunananda served as president of Satchidananda Ashram–Yogaville in Virginia and…
Learn more about Swami Karunananda, E-RYT 500