Unlock Your Creative Inspiration: Breath, Sound, and Movement
with HuDost
March 13 - 15, 2020
Creativity is a powerful tool which can liberate your love and empathy in ways you have never previously known. Using creativity as a spiritual practice can open up space within your being and allow you to become a healthier, happier human. Join award-winning musical duo HuDost for a weekend aimed to foster health, prosperity, love, and connection with the source.
This weekend, you will:
Explore breath, sound, movement, rhythm, and emotion
Enjoy teachings on healing
Dance and sing your way through blocked energy channels
Sing, draw, and participate in writing exercises
Please have your own writing and drawing supplies. Feel free to bring an instrument if you have one.
Testimonials
HuDost's blend of exotic traditional Sufi chants, world folk music, and powerful electric guitar licks makes a unique cultural bridge. We love HuDost. — Allyson and Alex Grey 

This is not fluffy new-age music—it's serious, complex fare with no aversion to addressing agony. Sommer's vocal execution is precisely orchestrated, her voice-opening, hollow-toned vortexes piercing through the tough spots… a journey of music and spirit. — Chronogram Magazine 

HuDost performs as either a duo or along with a band of fellow eclectic musicians—often engaging concertgoers through multiple mediums by weaving performance art and dance into their shows for an unforgettable experience that will leave audiences spellbound. — Louisa Johnston, Levitt Foundation
Presenter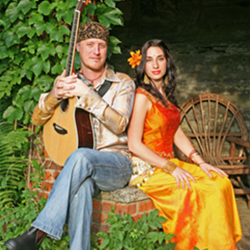 HuDost
The music of HuDost, the Sufi kirtan, neo-folk, world rock ensemble from Montreal and KY, weaves a seamless tapestry of sound that renders tears and laughter in listeners, cultivating the nameless longing that abides somewhere in all our hearts and invokes total celebration. HuDost's core musicians are Moksha Sommer and Jemal Wade Hines. Having toured the US, Canada, and Europe constantly since April 2006, HuDost has grown and expanded, traveled rocky and glorious terrain, and marveled at all they can learn and explore. Moksha and Jemal Wade, in this time, have grown as artists, as seekers, as a couple, and as a…
Learn more about HuDost