Adapt, Adjust, Accommodate: Reduce Stress with Gentle Yoga
with Ranjani Bayne, RYT 200 and Rukmini Ando, E-RYT 200, RYT 500, YACEP
January 31 - February 2, 2020
Release tension in the body, calm the mind and experience inner peace during a playful weekend with Ranjani and Rukmini. During this workshop, you will be supported on your healing journey with gentle and nurturing Yoga practices including sessions of Chair Yoga, Restorative Yoga (asanas with props), Yin Yoga, and Yoga Nidra (deep relaxation).
You will be welcomed in a safe and inclusive space. This program is accessible and suitable for every body.
The tentative schedule for this program includes:
Friday Evening
A gentle Hatha Yoga class using the wall as a prop (you won't have to move up and down off the floor!), followed by a relaxing Yoga Nidra session to help you unwind from your travels.
Saturday
An informative talk about stress management with Ranjani, who has been living, serving, and training at Yogaville for four years. After that, you will participate in a Chair Yoga class and then finish off the day with a rejuvenating Restorative Yoga session. You will also have the opportunity to take a guided tour of Yogaville, as well as attend our Saturday night Satsang (spiritual gathering).
Sunday
A philosophical Raja Yoga talk with Rukmini, a five-year Yogaville resident. After that, you'll experience a blissful Yin Yoga session and eat a healthy vegetarian lunch so that you are prepared to safely travel home.
Continuing Education (CE) Opportunities
Yoga Alliance (YA):  Approximately 7 contact hours.
You can input your contact hours using your YA login information and Rukmini Ando as the program's teacher.
Integral Yoga Teachers Association (IYTA) can provide you a CE certificate with your program's total contact hours for a $10 fee (free for IYTA members.) For more information, email [email protected]
Testimonials
I think that "Gentle" must be Ranjani's middle name. She is a special Yoga instructor with extraordinary gentleness, knowledge, patience, and pacing. While I've been at the Ashram for a month this summer, her Monday morning Hatha classes have been one of the highlights of my stay. Ranjani is a one-of-a-kind Yoga instructor. I highly recommend her program. — Siva Wick

Ranjani created a compassionate holding space where I experienced physical movement as a spiritual practice. In her class, I caught a glimpse of peace as my own true nature. And again, thank you!!!—Lisa Wilson

Having experienced taking a class from Rukmini during my stay at Yogaville, I have to say that she is a very gifted Yoga teacher indeed. Her voice is gentle and warm, and her pacing is as close to perfect as I have ever experienced. The sequence she taught was so spot on that I asked her permission to use that one myself in one of my classes. This was an all-level class with many teachers in it and she modified each pose to be both easier and more difficult accommodating each person's practice. I can't wait to return to Yogaville and experience her masterful teaching again. — Thomas B.
Presenters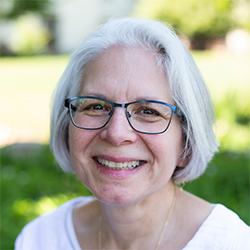 Ranjani Bayne, RYT 200
Ranjani has been teaching Integral Yoga since 2010. She combines her educational background and joy of movement to help promote health, well-being, happiness, and peace for all her students. She especially enjoys using props and modifications to assist students and create accessibility for all bodies. She teaches Integral Yoga Level 1, Mixed Level Integral Yoga, Restorative Yoga, Adaptive Yoga, Chair Yoga, and Stress Management at Satchidananda Ashram–Yogaville. Ranjani is also a Yoga As A Peace Practice ambassador. Before relocating to the Ashram in 2015, Ranjani shared the teachings of Integral Yoga in studios, churches, gyms, and with private clients in home…
Learn more about Ranjani Bayne, RYT 200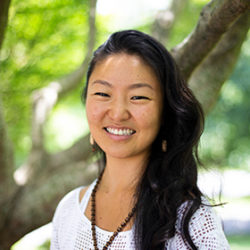 Rukmini Ando, E-RYT 200, RYT 500, YACEP
Nathalie Rukmini Ando has been practicing Yoga since 2004 and has been teaching since 2010. She is certified in Advanced Integral Yoga, Adaptive Yoga, Stress Management, Yoga of Recovery, and Raja Yoga. As a teacher, she's known for her clear instruction and her classes include fun, level-appropriate challenges. She currently serves as program development director, graphic designer, and Yoga teacher at Satchidananda Ashram–Yogaville. She holds a bachelor's degree in engineering and is also a fine artist, specializing in oil-on-canvas. See her artwork at Nathalie-Ando.pixels.com
Learn more about Rukmini Ando, E-RYT 200, RYT 500, YACEP