Sacred Sounds: Healing Sounds
with Jonathan Goldman and Andi Goldman, LPC, M.A.
April 24 - 26, 2020
Discover the secrets of sound healing with internationally acclaimed teacher Jonathan Goldman and holistic psychotherapist Andi Goldman. Explore the scientific and spiritual basis of using sound for healing through group exercises, sound healing techniques, award-winning healing music, and cutting-edge scientific information.
Learn about the Divine Name—a universal sound that has the ability to resonate both the physical body and subtle energy fields of anyone who intones it, irrespective of religion, tradition, or belief. You will also discover the incredible healing ability of Sacred Ratio Pythagorean Tuning Forks! Discover how sound can enhance your well-being.
Learn how sound can:
Energize and balance the brain
Improve the immune system
Tune the nervous system
Reduce stress
Heighten consciousness
Through teachings, meditations, and sonic exercises awaken the joyous and extraordinary healing power of sound in us all!
Additional Information
The workshop is a step-by-step process of vibratory initiation and activation. It culminates with learning to intone the Divine Name—a universal sound for healing, prayer, meditation, and transformation. The Divine Name has the ability to create a deep and profound connection between ourselves and the Divine. In addition, as an ultimate form of prayer, this extraordinary sound has the ability to bring healing and harmony to ourselves and the planet.
This workshop will discuss:
Vowels as mantras: How to use the power of self-created sacred sounds to resonate your chakras
Fundamentals of breath and toning: The importance of breath in resonating our body, brain, and etheric fields and in opening the pathways that allow sound to be expressed comfortably
Brahmari pranayama: A powerful technique of sonic Yoga for balance, health, and harmony
Fundamentals of vocal harmonics: How to create two or more notes simultaneously and experience the resultant transformative effects
Sounding the Divine Name: How to intone and experience the power of the universal sound for healing, prayer, meditation, and transformation
The healing vibrational resonance of specially created Sacred Ratio Pythagorean Tuning Forks
Testimonials
A most impressive learning and technique workshop over a weekend; so unique and powerful. Few people can imagine how transforming this subject could be! — Rosella Reif

A wonderful introduction to the powerful and sacred potential of sound. — Lance Simon

One of the brightest, loveliest, and most precious experiences enriching my consciousness, service, and ability to be who I am. Place, space, people, and guidance from above, natural and nurturing pristine environment make this time and experience even more wonderful. OM! — Yarema Rybitakyi
Presenter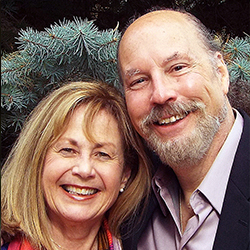 Jonathan Goldman and Andi Goldman, LPC, M.A.
Jonathan is an international authority on sound healing and a pioneer in the field of harmonics. He has worked with masters of sound from both scientific and spiritual traditions and has been empowered by the Chant Master of the Dalai Lama's Drepung Loseling Monastery to teach Tibetan Overtone Chanting. Jonathan is author of Healing Sounds: The Power of Harmonics, The 7 Secrets of Sound Healing, Chakra Frequencies: Tantra of Sound (co-authored with his wife Andi), winner of the Visionary Award for "Best Alternative Health Book" of the year, The Divine Name: The Sound That Can Change the World, 2011 Visionary Award…
Learn more about Jonathan Goldman and Andi Goldman, LPC, M.A.