Agape AUM: Evolutionary Music Weekend
with Paradiso and Rasamayi
February 14 - 16, 2020
Treat yourself to a meditative weekend of sacred sound healing with award-winning musicians Paradiso and Rasamayi. This weekend will be charged with healing performances using didgeridoos and crystal singing bowls, as well as hands-on practice learning to play these incredible singing bowls. Find the bowl to expand and purify your frequency; your ideal match or, your BOWLMATE.
Sound is a manifestation of the Divine, used by spiritual healers of all paths to facilitate growth and healing. You can use sound to immediately shift your life experience by activating key frequencies unique to you.
Reduce discord and remove spiritual blockages
Tune in to the infinite energy of sound and learn to continue to shift your life experience with activating key frequencies
Explore, play and have the option to bring home gem-infused Alchemy crystal singing bowls and quartz crystal didjeridoos
Experience both an energy activation, and a lasting massage for every cell in your physical body. Learn to infuse the highest frequency energetics into all situations, transmuting them into divine love.
Testimonials
What a beautiful experience of deeply resonant, authentic, loving sound with masters of alchemical transformation. Joy! — Heidi Dhivya Berthoud

I entered another realm separate from the material world! — Past Participant

Rasamayi and Paradiso are a beautiful pair of luminaries. Allow them to illuminate you with sacred sound and vibration. — Past Participant
Presenter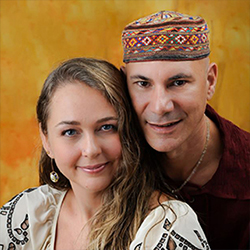 Paradiso and Rasamayi
Paradiso and Rasamayi are internationally renowned musicians and 3-time Album of the Year award winners. Their audiences have frequently reported experiences of deep meditation, visions of their guides, life purpose, and past lives, as well as profound healing during their performances. They have been identified as the #1 Independent World Music band in the world, and they have produced four albums together. Paradiso and Rasamayi have collaborated in projects and events with luminaries such as; Michael Bernard Beckwith, Neal Donald Walsch, Dr. Masaru Emoto, Jonathan Goldman, and Steven Halpern. See more at paradisoandrasamayi.com
Learn more about Paradiso and Rasamayi