Yoga of Forgiveness: A Course in Miracles Retreat
with Bharata Wingham, E-RYT 200, CLYT
April 10 - 12, 2020
Forgiveness is the key to happiness. — A Course in Miracles
Join us on Easter weekend for this program based on Christian principles and terminology. A Course in Miracles focuses on "The Forgiveness Principle"– a crucial aspect of the path of Yoga and key to our emotional health. This weekend will explore the place of forgiveness in our spiritual practices. A Course in Miracles can be seen as a form of Christian Yoga, practicing forgiveness, which accelerates our progress in reuniting with our true Self.
Presenter Interview
Watch A COURSE IN MIRACLES -TV with Barry Bharata Wingham, Marianne Williamson, and Guests
Forgiveness ends any conflict. The Course's principles can guide us through those times when forgiveness doesn't come easily. It can help us open our hearts and restore health to our bodies and joy to our hearts.
Through the application of Course principles, you can learn to:
Release any guilt, fear or worry about anything in your life
Regain control of your life by illuminating the link between forgiveness and karma
End long-standing conflicts, arguments, and criticisms, making peace with anyone or any condition in your life
Undo any condition or addiction that causes you to suffer
Forgive mistakes, misdeeds or estrangements in your life
Strengthen the connection with your Inner Teacher and Guide
Forgive and be forgiven
Discover and use simple procedures of the Course like the "Holy Instant" to overcome fear, anger or depression. You can become a "Happy Learner" in life, and transform unhappiness to the happiness that is your birthright. Transform over-seriousness into happy laughter.
Additional lessons: Why your part is essential in the world's healing; how to tell Truth from error and reality; how our judgment injures us, why there is nothing to fear, ever; why we are never upset for the reason we think; why we see only the past; that time is an illusion, "although a persistent one"; why Peace cannot be outsourced.
Continuing Education (CE) Opportunities
Testimonials
Beloved Bharata you have shared such loving and peaceful spirit that really joined us all together. Thank you for sharing this powerful wake-up call. I am believing. — Damayanty Eberle

Just wanted to let you know how much I enjoyed the Retreat with A Course in Miracles and how it has inspired me. I rediscovered where I need to put my attention. I was pretty lost in the world of form and illusion for awhile and was suffering quite a bit.  I feel reconnected to spirit thanks to you and all the loving people of Yogaville. — Melissa Alsbergas

Wow!!! Bharata, thank you so much. I have thought of all the lessons learned in class all week long. This bonus is truly welcomed and will help in keeping me focused on the Holy Spirit ( not the Ego) and staying in peace. — Ilka Chavez

Bharata offered an intellectually stimulating program based on A Course in Miracles. A consummate professional knowing the information inside and out, he created the perfect container for the intrigued participants who were full of deep questions. Many wish the program was longer, a week if not at least 5 days long. Bharata's humor came through subtly keeping a nice balanced atmosphere throughout the weekend. — Sita
Presenter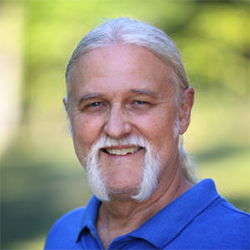 Bharata Wingham, E-RYT 200, CLYT
Bharata is a long-time student of A Course in Miracles, having worked with it daily since 1980. A Laughter Ambassador, he has trained hundreds of Laugha Yoga Leaders and led thousands of people through Laugha Yoga® sessions, a philosophy of spontaneous Self liberation. He was trained and certified in laughter Yoga by Dr. Madan Kataria, founder of the world-wide laughter clubs. For thirteen years, he produced and hosted a television program, A Course in Miracles Study Group, which was distributed in the US and abroad. While conducting numerous programs and workshops, he authored the book, An Ancient New Idea: A Primer on…
Learn more about Bharata Wingham, E-RYT 200, CLYT