Taking Ayurveda to the Mat
with Letícia Padmasri, M.A., E-RYT 500, C-IAYT
April 17 - 19, 2020
For everyone, especially Yoga teachers and health professionals
Yoga and Ayurveda, the ancient Vedic healing practices, function both alone and together to balance your body and mind. Unique to each individual, these ancient healing practices will guide you and your clients toward a new realm of vitality.
Explore how lively, full-spectrum asana sequences of Integral Yoga can help to balance one's nature. You'll learn to adapt your Yoga practice according to ayurvedic principles when needs arise—such as the change of seasons, aging, digestive complaints, insomnia, or anxiety.
During this workshop, you'll experience:
Classes tailored for each of the three main doshas (or individual natures), allowing you to feel the distinct effects of each asana sequence
How the doshas' qualities vary throughout the day and how that affects your practice
Daily ayurvedic self-care regimens
The link between the Integral Yoga Hatha sequence and a balanced constitution
Through discussions, practice, and inquiry, you'll develop a new holistic way of approaching your health.
Prerequisites: Basic understanding of the Ayurvedic doshas
Continuing Education Opportunities
Testimonials
This workshop came at a perfect time to help my understanding of energy and its connection to nature. Leticia Padmasri brought knowledge, grace, and awareness of gunas and doshas. The physical asana practice took my practice to just the right level. — Judith Knight

I highly recommend this program and this instructor. The three Yoga practices were amazing. They were very informative and complemented the lecture for an introduction to Ayurveda. Leticia has an amazing energy. — Elaine Woods-Martinez

Padmasri is delightful. She lives what she teaches. Her heart is full and she's very knowledgeable. Her light and love is inspiring. — Mollie Robertson

A perfect, short, concise introduction to Ayurveda, and how to bring it onto the mat. — Carter Jahneke

Leticia imparts her knowledge and wisdom, leaving you with the desire to study more.  — Past Participant
Presenter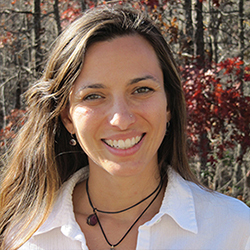 Letícia Padmasri, M.A., E-RYT 500, C-IAYT
Letícia Padmasri is an Ayurvedic Lifestyle Consultant, a certified Advanced Integral Yoga® Hatha teacher, and a certified Raja Yoga teacher. She holds a bachelor's degree in exercise science, a master's degree in education, and has dedicated many years towards the study of exercise physiology. She combines her love for the sciences of Yoga and Ayurveda with her interest in the body's structure and function, helping students of all levels adapt their practices to achieve optimal health and total well-being. In addition to being one of Yogaville's primary teacher trainers, she also offers workshops and seminars in the US and Brazil.…
Learn more about Letícia Padmasri, M.A., E-RYT 500, C-IAYT