Yoga for Detox: Spring Cleaning for Body and Mind
with Satya Greenstone, E-RYT 500, C-IAYT
March 13 - 15, 2020
In Spring, a time of rebirth, we yearn for vibrancy and rejuvenation within. Join Satya Greenstone to shed old habits and adopt new revitalizing practices in a supportive, healing environment.
Under expert guidance and instruction, you will:
Enhance digestion and elimination with asana (posture) sequences
Calm the mind and body with pranayama (yogic breathing)
Harmonize your vibration with mantra (sacred sound)
Cleanse the internal body with kriyas (yogic cleansing)
In addition, you will rest and rejuvenate with Restorative Yoga sessions and enjoy delicious vegetarian and vegan meals (an opportunity for fasting is available).
Join us to begin your fresh start!
Continuing Education (CE) Opportunities
Testimonials
First getting here I was frazzled, rushing, and super tense. Work and life have definitely beat me up. However, after spending these last couple days here I am more relaxed and ready to navigate my peace throughout my life. Thank you. — Megan Highsmith

I began reading about health and nutrition in the 1970s. I met a vegetarian group on campus and they introduced me to fasting. This workshop taught me that my understanding and appreciation for this topic is ongoing. Yoga for Detox = Knowledge is power! — Vivian Newman

After this detox program, I feel lighter and more open than I can remember feeling in a long time. This will definitely help me to reboot my home practice. Thank you for helping me recharge my battery. — April Scripps
Presenter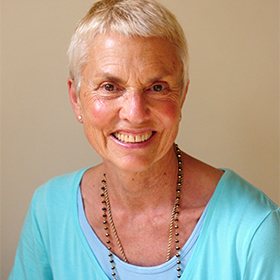 Satya Greenstone, E-RYT 500, C-IAYT
Satya Greenstone has been a student of Sri Swami Satchidananda since 1971. She has shared the teachings of Integral Yoga® in many diverse settings with students of all ages and backgrounds and combines a natural, practical, down-to-earth approach to Yoga with a gentle humor. Since 1999 she has been a primary teacher for the 200-hour and the Intermediate Yoga Teacher Training programs. While serving as teacher training coordinator, she helped to develop and teach the first Gentle Yoga Teacher Training program. She has also developed and teaches training programs in Restorative Yoga, Adaptive Yoga, and Yoga and Meditation for Children. In…
Learn more about Satya Greenstone, E-RYT 500, C-IAYT