Strengthen Your Container with the Chakras: Re-Membering Wholeness
with Karla Helbert, LPC, E-RYT 200, YACEP, C-IAYT
March 5 - 8, 2020
Discover the power of your sacred energetic centers, the chakras, to help you move through life-altering, painful events. Explore your chakras with guided meditations, visualizations, journaling, art, movement, and sharing with like-minded spiritual seekers. This program is for people who are facing challenges of all kinds including grief, trauma, and loss.
Designed to support you on your personal journey toward a natural state of wholeness, this retreat will assist you in exploring the deep wisdom held in your energetic body.
In this program, you will:
Learn about your chakra system and how each energy center is impacted by traumatic events
Practice techniques to strengthen and maintain balance of your energy body
Engage in ritual to acknowledge divinity and strengthen conscious connection with your chakras
The ultimate teaching of Yoga is that you are whole and perfect as you are, in pain, joy, peace, and grief. Our chakra system works to support that realization and helps us maintain balance through even the most chaotic of times.
Continuing Education (CE) Opportunities
Testimonials
Karla is a delightful, compassionate, caring instructor and I look forward to recommending her session to others. — Ebony

I've had a difficult time with grief. This program met my expectations and helped me to cope better. — Bonnie Shaw

Karla has been a Godsend. She is a lovely compassionate person and a bereaved parent herself. I've come to realize I had mild PTSD for months after my son died. Flashbacks, anxiety, nervousness. I kept reliving moments of his last months. It's only now that I am remembering happier moments of his life before cancer. Karla helped me identify the trauma and how to lessen it. — Marsha
Presenter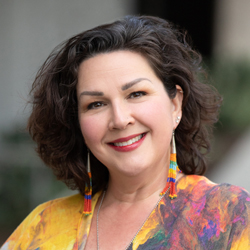 Karla Helbert, LPC, E-RYT 200, YACEP, C-IAYT
Karla is a licensed professional counselor (LPC), Compassionate Bereavement Care® provider, Yoga therapist, and certified Integral Yoga teacher. Her life was irrevocably changed when her son died of a brain tumor in 2006. Karla's award-winning book, Yoga for Grief and Loss, is endorsed by Integral Yoga® leaders and teachers as well as other experts in the fields of both Yoga and loss. The book examines how the paths of Yoga can support us in trauma and grief. She also shares the teachings and philosophies of Yoga's ancient wisdom in her book The Chakras in Grief & Trauma. Relying on ritual, meditation,…
Learn more about Karla Helbert, LPC, E-RYT 200, YACEP, C-IAYT