Create Your Happy Body: Combining Alexander Technique and Pavanmuktasana
with Hope Mell, RYT 500, ATT
February 21 - 23, 2020
Are you frustrated by pain in your body, stiff joints or restricted movement? Create your happy body and transform your movement with the Alexander Technique and Pavanmuktasana (the Joint Freeing Series).
The Alexander Technique offers a greater sense of self while bringing a revolutionary approach to finding your natural balance and exploring the connection between thinking and movement. The Joint Freeing Series offers simple and accurate movements to rehabilitate joints and gently open the body.
The choice to never move the same painful way again is yours. Living life in even mild pain can be an emotional and energy depleting experience. The opportunity is here to learn the techniques that have transformed the lives of many who have suffered from pain and difficult movement.
Testimonials
Hope Mell is an excellent, inspiring teacher. This workshop on the Alexander Technique and Yoga opened my mind and body to a new awareness. I felt like a child again! — Susan G.

Great tips for living a pain-free life. — Melanie H.

Hope is a wealth of knowledge and provides superb training. [The workshop was] so helpful to reduce and relieve pain, and learn the proper way to use the body. — Tina C.

I had an amazing time at the Joyful Movement course. It taught me that simplicity is oftentimes the solution to what might be perceived as a complex issue. I felt so grateful to be in Hope's uplifting and enlightening presence. — Clemens W.
Presenter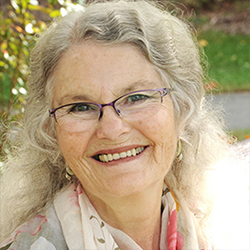 Hope Mell, RYT 500, ATT
Hope's passion and purpose are helping people find freedom in their bodies—freedom of movement and movement without pain. She found Integral Yoga® in 1967 and began her studies with Sri Swami Satchidananda. She was certified to teach Integral Yoga Hatha in 1974. Marjorie Barstow came into Hope's life in 1979, who taught her The Alexander Technique. She was certified to teach by the Alexander Alliance in Philadelphia in 1988. Hope earned her certification as a Structural Yoga Therapy teacher in 2005. For decades, she has refined her skills and developed an approach that combines the powers of Yoga and the Alexander…
Learn more about Hope Mell, RYT 500, ATT