200-hour Integral Yoga Teacher Training – Spring
with Satya Greenstone, E-RYT 500, C-IAYT, Swami Karunananda, E-RYT 500 and Amrita Sandra McLanahan, M.D.
April 13 - May 10, 2020
Gain a strong foundation for personal and spiritual development, a space for nurturing your own Yoga practice, and the skills necessary to become a knowledgeable Integral Yoga teacher.
This comprehensive, 200-hr Yoga teacher certification is a month-long residential program where you will learn to teach each portion of the Integral Yoga Level I class, including asanas (Yoga poses), deep relaxation, pranayama (breathing practices), chanting, and meditation.
Additionally, you will explore:
Classes about the benefits of a vegetarian diet
Instruction in basic anatomy and physiology
Chanting instruction—for personal practice and class settings
Raja Yoga (the science of the mind and yogic lifestyle)
Jnana Yoga (the study of Self-inquiry)
Bhakti Yoga (the path of devotion; including chanting, worship, and self-surrender)
Karma Yoga (the practice of selfless service)
Conducting and publicizing classes
Training Information
Prerequisites
Applicants should be regular practitioners of Hatha Yoga for six months, preferably one year. Applicants should be familiar with the Integral Yoga style of Hatha practice. If not, you can click here to purchase a DVD of the Level 1 class led by Swami Satchidananda. There is also a YouTube video available of the Level 1 class.

If you have any questions, please contact the IY Academy at [email protected] or (434) 969-3121 x153 before submitting your application and non-refundable application fee.
Certification
Graduates receive a diploma certifying them to teach Integral Yoga Level 1 classes and are awarded 220 Yoga Alliance hours.
Questions? 434.969.3121 x153 • [email protected]
Testimonials
I decided to take this program to find and develop the yogic principles within me. The program allowed me to thoroughly live the yogic lifestyle.

After completing the training, I feel totally prepared! I feel that I have been provided a clear, stable, strong foundation to teach Yoga

Whenever more information is needed about what Satya is teaching, she provides thorough and detailed answers. Moreover, when a trainee has experience with the issue at hand, Satya will incorporate the experience or information into the discussion.

— Past Participants
Presenters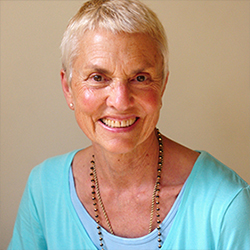 Satya Greenstone, E-RYT 500, C-IAYT
Satya Greenstone has been a student of Sri Swami Satchidananda since 1971. She has shared the teachings of Integral Yoga® in many diverse settings with students of all ages and backgrounds and combines a natural, practical, down-to-earth approach to Yoga with a gentle humor. Since 1999 she has been a primary teacher for the 200-hour and the Intermediate Yoga Teacher Training programs. While serving as teacher training coordinator, she helped to develop and teach the first Gentle Yoga Teacher Training program. She has also developed and teaches training programs in Restorative Yoga, Adaptive Yoga, and Yoga and Meditation for Children. In…
Learn more about Satya Greenstone, E-RYT 500, C-IAYT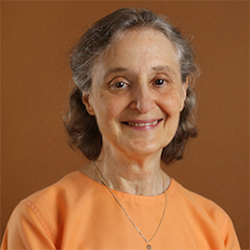 Swami Karunananda, E-RYT 500
Swami Karunananda, is a senior disciple of Sri Swami Satchidananda. In 1975, she was ordained as a monk into the Holy Order of Sannyas. She has had over 40 years experience teaching all aspects of Yoga and specializes now in workshops, retreats, and teacher training programs that focus on the science of meditation, the philosophy of Yoga, personal transformation, and Yoga breathing techniques for better health and wellbeing. She developed, and for over 25 years has taught, the Integral Yoga® Teacher Training programs in Raja Yoga and in Meditation. Swami Karunananda served as president of Satchidananda Ashram–Yogaville in Virginia and…
Learn more about Swami Karunananda, E-RYT 500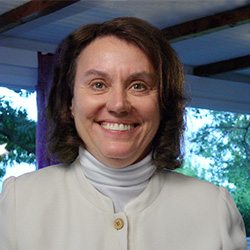 Amrita Sandra McLanahan, M.D.
Dr. McLanahan is a graduate with high honors of Swarthmore College, and she has an M.D. from Wayne University and a family practice specialty from the University of Massachusetts. For twenty years, she served as director of stress management for Dr. Dean Ornish's research, using Yoga and lifestyle changes to reverse heart disease and cancer. She now practices integrative medicine at Yogaville. Dr. McLanahan has made multiple study trips to India and Asia, where she visited centers that use Yoga and other natural means to prevent and treat disease. She is the co-author of the book, Surgery and Its Alternatives and…
Learn more about Amrita Sandra McLanahan, M.D.