Free All-Day Laughter Yoga Workshop: Live, Laugh, Love! 2020
with Bharata Wingham, E-RYT 200, CLYT
January 4, 2020
Start the New Year off with lots of healthy, hearty and healing laughter!
Join us and spend a day laughing for no reason! And experience the joy of laughter and the bliss of Yoga with Bharata Wingham, a "Laughter Ambassador."
Laugha Yoga® reconnects us to our true self through prolonged Laughter sessions, laughayama (breathing practices), meditation and Laugha Nidra® (guided deep relaxation) we can reach a profound level of peace, joy, and relaxation.
Read an article by Bharata in Hektoen International Journal published by the Hektoen Institute of Medicine about how medical science is discovering how laughter can be very beneficial to the overall health of people.
In this play/workshop you will:
Participate in freestyle "laughter games," which release endorphins and T-Cells to produce immediate and profound boosts to your mood, immunity, health, creativity, and confidence levels
Learn how laughing for no reason can lead to being happy for no reason
Discover why prolonged intentional laughter, a simple technique that has been overlooked for centuries, is being recognized again as a therapeutic method (first publicized in the West by Norman Cousins in his book Anatomy of an Illness)
Learn how laughter can be used as a form of Social Yoga spreading social health to the world
"Release the imprisoned splendor" within and boost your aliveness, vitality, and have fun
Acquire the skill of "Spontaneous Self-Liberation"
Learn about Laugha Yoga® and the opportunities to become a Certified Laughter Yoga Leader and Laugha Yoga Teacher
Testimonials
It worked! Thanks for bringing this simple act back into my awareness. — Annie

Thank you so much. I really feel connected to myself and the Source. I'm looking forward to doing this a lot! — Carrie

Very enjoyable! I had forgotten how great laughter can feel. — Arjuna

Using laughter as a focus for meditation is such a great idea. It has increased my desire to meditate more! — Joy

This is a blast. I want to do it with all my friends! — Francis

I saw Laughing Yogis in India and now I see why they did it so much. — Georgia
---
Presenter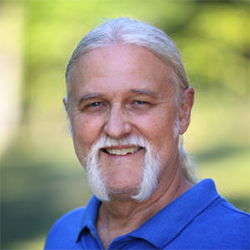 Bharata Wingham, E-RYT 200, CLYT
Bharata is a long-time student of A Course in Miracles, having worked with it daily since 1980. A Laughter Ambassador, he has trained hundreds of Laugha Yoga Leaders and led thousands of people through Laugha Yoga® sessions, a philosophy of spontaneous Self liberation. He was trained and certified in laughter Yoga by Dr. Madan Kataria, founder of the world-wide laughter clubs. For thirteen years, he produced and hosted a television program, A Course in Miracles Study Group, which was distributed in the US and abroad. While conducting numerous programs and workshops, he authored the book, An Ancient New Idea: A Primer on…
Learn more about Bharata Wingham, E-RYT 200, CLYT