The Art of Prayer
with Prema Mayi and Eric Archer
December 6 - 8, 2019
Immerse yourself in sacred sound and mantra study, discuss philosophy, enjoy Yoga, and practice meditation. Experience the intimacy of music, poetry, mandalas, and storytelling as foundations of meditation and spiritual practice.
Prema Mayi has lived in ashrams extensively in the West and India, studying with great masters the intricate philosophy, music, and arts of ancient Vedic culture, allowing her to give participants a true experience of spiritual upliftment and inner wisdom.
Together with Eric Archer, they craft an experience through art, poetry, mantra, music, meditation, and Yoga.
This weekend, you will:
Immerse yourself in sacred sound and mantra study
Gain hands-on experience crafting offerings of nature and art
Practice daily Hatha Yoga and meditation weaved in with Bhakti Yoga (devotion)
Meet the presenters
Presenters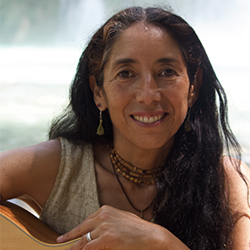 Prema Mayi
Prema Mayi has been practicing Bhakti Yoga for over 40 years. While living in ashrams, she studied the arts and philosophies of the Vedas under the guidance of S. Bhaktivedanta Narayan Maharaja. Prema offers her students an opportunity to discover natural inner wealth through the exploration of their own voices. She travels around the world sharing these ancient gifts. See more at premamayi.com
Learn more about Prema Mayi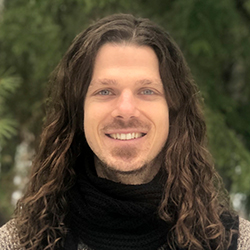 Eric Archer
Eric is a multi-instrumentalist, visual artist, and poet drawing inspiration from nature and its bounty. He has performed throughout the United States and Europe and is happy to call the Hudson Valley of New York his home. Eric collaborates regularly with Prema Mayi and Radharani during their workshops and frequently accompanies Biff Mithoefer on his Yoga Teacher Trainings. Contributing music to these deeply meditative and educational settings, Eric guides listeners through a collective experience of insights, heartbeats, and breath. See more at ericarcherarts.com
Learn more about Eric Archer