Clarity of Mind: Essentials for Brain Longevity
with Jane Stelboum, RYT 500, E-RYT 200, Certified Brain Longevity Specialist
November 15 - 17, 2019
Looking to live life with clarity and vitality? Feeling forgetful and experiencing brain fog? Concerned about your brain health? Join Jane Stelboum to learn how Yoga practices and lifestyle choices can help you achieve brain longevity through this engaging and experiential workshop.
This weekend, you will learn:
The science behind stress and how it affects cognitive function
The power of breath and asana (postures) to maintain positive brain health
The kirtan kriya, a specific 12-minute meditation, and the research behind its many positive benefits
The 4 Pillars of Alzheimer's Prevention™, including discussions on diet, exercise, stress management, and spiritual fitness
This class is perfect for anyone who wants to live with more clarity and awareness, including Baby Boomers, aging parents, and anyone who works with geriatric clients in a health and wellness capacity.
Continuing Education (CE) Opportunities
Testimonial
Jane explains and instructs this ancient and recently proven technique for improving brain health and memory in an easy "user-friendly" way. She makes it accessible to anyone at any age, even if they're not into Yoga or meditation. The importance of sharing this technique is obvious and Jane's commitment and personal story make her a wonderful instructor. — Dr. Susan Pataki, founder of Sanibel Yoga
Presenter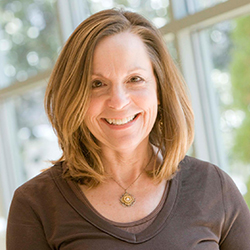 Jane Stelboum, RYT 500, E-RYT 200, Certified Brain Longevity Specialist
Jane is a marketing/advertising executive, Hatha yoga teacher trainer, and Certified Brain Longevity Specialist. She founded Sarasvate (sar-as-vah-te´) in 2012 in honor of her mother Sarah, whom she lost to Alzheimer's in 2011. Sarasvate's mission is to prevent memory-related diseases like Alzheimer's and help those already impacted maintain a high quality of life as long as possible. Sarasvate does this through workshops, caregiving training sessions, speaking engagements, and private sessions. Jane has been a featured speaker at conferences held by the Smithsonian Associates, Aging Life Care Association, Alzheimer's Foundation of America, and many yoga studios, senior living communities, and corporate offices…
Learn more about Jane Stelboum, RYT 500, E-RYT 200, Certified Brain Longevity Specialist