The Art of Ayurvedic Nutrition
with Aruna Patki, BAMS, LMBT, NCBTMB, RYT 200
November 8 - 10, 2019
Ayurveda, a 5,000-year-old holistic science, is the mother of all alternative medicine and the key to prospering psychologically, physically, emotionally, and spiritually. Join us for an enlightening weekend in which you will learn Ayurvedic diet principles and how to achieve optimum health.
Ayurveda considers tri-doshic theory (elemental theory) as the basis of health and disease. In this workshop, you will learn about the wisdom of the doshas (constitutions) and how they contribute to health. Discover the compatible foods for your prominent dosha and learn how to improve gut health with a balanced diet.
During this weekend, you will learn:
Ayurvedic dinacharya (daily routine)
Healthy ways of eating food
An Ayurvedic approach to food combining
The qualities and uses of Ayurvedic teas, herbs, and spices
Hands-on approaches to making Ayurvedic recipes, including a tea (decoction), a sweet dish, a mono-cleansing meal (khichari), and a vegetarian soup
Prerequisite
Knowledge of your predominant dosha. Click here to assess your dosha online.
Testimonial
Aruna Patki, an Ayurvedic Practitioner at "Ayurveda Healing Spa," is an amazingly intuitive Ayurvedic practitioner. I learned how to eat for my Pitta/Vata type and what kind of lifestyle changes I needed to make to support my ongoing health and healing.  I can't say enough about Dr. Patki's abilities and warm bedside manner. She is a blessing in my life and I am so grateful to have been under her care! Thank you Dr. Patki for being you! — Karen Pierce, Psychotherapist, Life and Leadership Coach
Presenter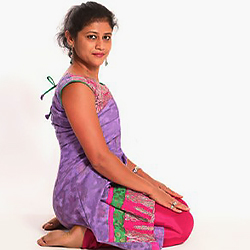 Aruna Patki, BAMS, LMBT, NCBTMB, RYT 200
Aruna began her studies in Ayurveda at an early age and earned a Bachelor of Ayurvedic Medicine and Surgery (B.A.M.S.), at the Ayurvedic Government College of Ayurveda at Swami Rama Nand University, Maharashtra State, India. She continued her postgraduate studies in Panchakarma, an Ayurveda course of study, from Tilak College of Ayurveda at Pune University, Maharashtra State, India. She is a Yoga teacher and has practiced Yoga since 1995. Aruna is also a Licensed Integrative Bodywork and Massage Therapist, Certified Medical Cupping Therapist, and the founding director of Ayurveda Healing Spa, LLC, in North Carolina. She has taught seminars, workshops,…
Learn more about Aruna Patki, BAMS, LMBT, NCBTMB, RYT 200