Everything Comes to You: Yoga of Gratitude
with Bharata Wingham, E-RYT 200, CLYT
November 29 - December 1, 2019
"Gratitude is a lesson hard to learn for those who look upon the world amiss."
—A Course in Miracles
Join Bharata Wingham for this weekend focused on what allows effortless gratitude in life. Going to the heart of what we can undo, not on what we must do to be grateful.
As important as the grateful attitude is on our journey to spiritual and emotional maturity, it also can also be very difficult for some of us to experience in a world that sometimes seems to hold out little for us to be grateful for.
Drawing from A Course in Miracles' healing power of the "holy instant" and the timeless yogic teachings of "Shiva's Dance of Bliss", we will learn practical ways to uncover the gratitude, like peace, that is our natural inheritance – bypassing trying to become grateful.
In the holy instant, there is no action necessary, it is already complete all at once, like memory, more on the order of getting a joke. All at once.
Undoing is a critical practice in most spiritual paths. Sri Swami Satchidananda professed he was an  "Un-doist". Undoing is key to experiencing gratitude every day.
Centering on developing an ability to experience gratitude regardless of everything that might seem to get in the way or not go our way.
These topics will be explored and developed in the workshop:
How to dissolve non-grateful  and stressful states by learning to shift our awareness of time to awareness in space
The Holy Instant: a momentary pause and "suspension of disbelief"- just snap your fingers
The Gratitude Prayer and its role in an attitude of gratitude
Forgiveness: recognizing "who" forgives and "who" is grateful?
Recognizing who we truly are and who others are
Uncovering both sides of the "Golden Rule" without which the rule is incomplete and less effective
How our judgments weaken our ability to be grateful and how to undo them
What to do immediately when gratitude isn't present
To move toward wordless prayer and the role of feeling in prayer
How the two impulses of manifestation, love and fear, affect our sense of gratitude
When you are grateful for what you have or don't have it can free up open space. We will work with the principle that what we overly want energetically pushes it away, and what we don't want too much can draw it to us. When you don't want what you don't have it can draw it to us.
It's a basic simplicity:
Seek and it hides
Hide and it seeks
That's the dance — and it always takes two.
Testimonials
Thank you. My weekend at Yogaville was truly a life-changing experience for me. This course came at
the exact moment I really needed it in my life. And I am so grateful for the opportunity to meet you and everyone else
that was there that weekend. I'm looking forward to moving forward down this path. — Breia

Beloved Bharata you have shared such loving and peaceful spirit that really joined us all together. Thank you for sharing this powerful wake-up call. I am believing. — Damayanty

Just wanted to let you know how much I enjoyed the Retreat and how it has inspired me. I rediscovered where I need to put my attention. I was pretty lost in the world of form and illusion for awhile and was suffering quite a bit. I feel reconnected to spirit thanks to you and all the loving people of Yogaville. — Melissa

Bharata offered an intellectually stimulating program based on the Course in Miracles. A consummate professional knowing the information inside and out, he created the perfect container for the intrigued participants who were full of deep questions. Many wish the program was longer, a week if not at least 5 days long. Bharata's humor came through subtly keeping a nice balanced atmosphere throughout the weekend. — Sita
Presenter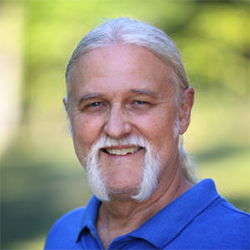 Bharata Wingham, E-RYT 200, CLYT
Bharata is a long-time student of A Course in Miracles, having worked with it daily since 1980. A Laughter Ambassador, he has trained hundreds of Laugha Yoga Leaders and led thousands of people through Laugha Yoga® sessions, a philosophy of spontaneous Self liberation. He was trained and certified in laughter Yoga by Dr. Madan Kataria, founder of the world-wide laughter clubs. For thirteen years, he produced and hosted a television program, A Course in Miracles Study Group, which was distributed in the US and abroad. While conducting numerous programs and workshops, he authored the book, An Ancient New Idea: A Primer on…
Learn more about Bharata Wingham, E-RYT 200, CLYT