Midweek Seminar: Relax, Renew, and Experience the Joy Within
with Amrita Sandra McLanahan, M.D.
October 15 - 17, 2019
When you feel relaxed, you can experience the joy that is always present within. Join us for a healthy measure of midweek wellness that will provide you with powerful yet simple tools to help you feel refreshed and at ease.
Topics include:
Introduction to a wholesome yogic lifestyle
Ways to feel good inside and out
The essentials for radiant health
Discover the benefits of Yoga for all the systems of the body, learn the basics of a yogic diet, and explore the all-important role that laughter and love play in keeping you healthy. Hatha Yoga classes will be offered twice a day, and there will be plenty of time for opportunities to ask questions (and get answers!) about your own personal health issues.
Midweek Seminars 
Midweek Seminars not only offer special lectures to help you deepen your practice, but also allow the time, space, and guidance to relax and go within. This is the perfect opportunity to embrace the quiet of the Ashram and the knowledge of its teachers.
Join the daily schedule, take classes in your area of interest, enjoy the natural setting and sacred spaces, and connect with like-minded people.
Testimonials
Dr. Amrita was fantastic! Very upbeat and entertaining. The vast knowledge just articulately flowed from her lips—so much info in such a short time, all understandable due to her humor and energy. Thank you! — Claudia Hedeen

Dr. Amrita McLanahan has a great sense of humor and the capacity to marry science to theory. — Crystal Fenwick
Presenter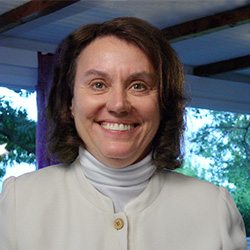 Amrita Sandra McLanahan, M.D.
Dr. McLanahan is a graduate with high honors of Swarthmore College, and she has an M.D. from Wayne University and a family practice specialty from the University of Massachusetts. For twenty years, she served as director of stress management for Dr. Dean Ornish's research, using Yoga and lifestyle changes to reverse heart disease and cancer. She now practices integrative medicine at Yogaville. Dr. McLanahan has made multiple study trips to India and Asia, where she visited centers that use Yoga and other natural means to prevent and treat disease. She is the co-author of the book, Surgery and Its Alternatives and…
Learn more about Amrita Sandra McLanahan, M.D.